If you love pigeons and keep them as pets, you know that it's important to have the proper equipment on hand to properly care for them.
There are many kinds and sizes of pigeons, but they all have basic requirements when it comes to their daily needs.
In addition to food and water, most pigeons enjoy having a loft.
Having the right kind of loft for your pet pigeons helps ensure their good health and enables you to keep them for many years.
Click here to skip down to our handy pigeon lofts buyers guide to help you understand lofts and choose the ideal one for your pet birds. 
The Best Pigeon Lofts
Now that you know what you look for when you choose a pigeon loft, you can start checking out the various options. Don't just choose the first one you come across.
Take the time to investigate your choices so you can get the one that works best for you and your birds. 
1. Horizon Structures Pigeon Loft
This is the ideal loft for beginners and is a simple way to keep your birds safe and secure.
It's dimensions are 8 feet by 10 feet and it features ½ inch wood sheeting and 30 year shingles.
The walls and floor are made from durable plywood and can be painted or left to look natural.
Joists help secure the floor and a door with a locking latch helps keep the pigeons inside.
The loft also includes two wood nest boxes and a mesh door and partition for creating separate spaces for the pigeons.
You'll also see two screened windows that give the pigeons a place to look outside and a way to optimize airflow throughout the loft.
You can also choose some add-ons to make your loft more functional.
That includes an aviary, pigeon trap, coated mesh for the windows, extra nest boxes, siding and the opportunity to add electricity if you'd like. 
2. Portable Livestock Shelters Pigeon Loft
Check it out here: https://www.portablelivestockshelters.com/Pigeon_Housing.html
This is a basic kit style loft that you can construct on your own exactly where you want to place it.
The roof and sides are painted so they blend well in your outdoor space, as well as painted trim and quality siding.
There's also a venting window with wire mesh that is resistant to predators, keeping the pigeons inside safe and secure.
The top level has a wooden floor and a trap pigeon door, helping keeping birds inside when they need to be.
Two venting doors and several perches inside. There's a large release door that makes it simple to let the pigeons out when you need to. 
3. MYES Pigeon Cage
Check it out here: https://www.amazon.com/MYES-Pigeon-Outdoor-Wooden-Household/dp/B0861MMRW5
This wooden pigeon loft is a great choice if you have several pet pigeons. It's large size gives your birds plenty of space to get around and interact with each other.
Each of the main houses has its own waste tray and there's also a lower waste tray that can be easily removed for cleaning.
The entire loft is simple to clean and maintain and boasts a modern design and color that looks great in your space.
The wire mesh is quality and protects your pigeons from predators and helps keep the birds inside where they belong.
There's ample space for food and water and places for the birds to perch.
4. Pawhut Large Wooden Vertical Bird Cage
Check it out here: https://www.amazon.com/PawHut-Wooden-Vertical-Outdoor-Aviary/product-reviews/B01FR6QFD2
Keeping your pigeons outside is ideal as it contains the mess and gives them a natural habitat for flying, nesting and staying safe from predators.
It's great for smaller birds, but pigeons will also enjoy calling it home. Quality and durable wood and mesh materials are both safe and long lasting.
The loft also features two doors of different sizes and the asphalt roof is water resistant and able to withstand the elements.
The dimensions are ideal for housing several pigeons and there's space for food and water as well as perches.
5. MYES Pigeon Shed
Check it out here: https://www.amazon.com/MYES-Outdoor-Household-Breeding-24-Nest/dp/B0863MYYDQ
Here's a premier pigeon shed for pigeon owners who want to breed their birds.
A fashionable design creates a stylish look in your outdoor space and the quality wooden materials are stable and durable, even with daily use.
The anti-rust mesh ensures many years of use and protects your pigeons from predators without putting them at risk of injury.
The large size ensures space for many pigeons at the same time and the nesting area makes it easy for parent birds to lay, incubate and care for their babies.
The sloped roof prevents water from pooling on top and the mesh ensures optimal air flow and allows sunshine in to keep the loft from becoming damp, which can compromise the health of your pigeons.
---
Pigeon Loft Guide
New to buying a pigeon loft?
Our buyers guide below will help you understand the ins and outs of pigeons lofts, what exactly they are and why you should get one for your pigeons.
What is a Pigeon Loft?
As the name implies, a pigeon loft is an enclosure that is elevated off the ground.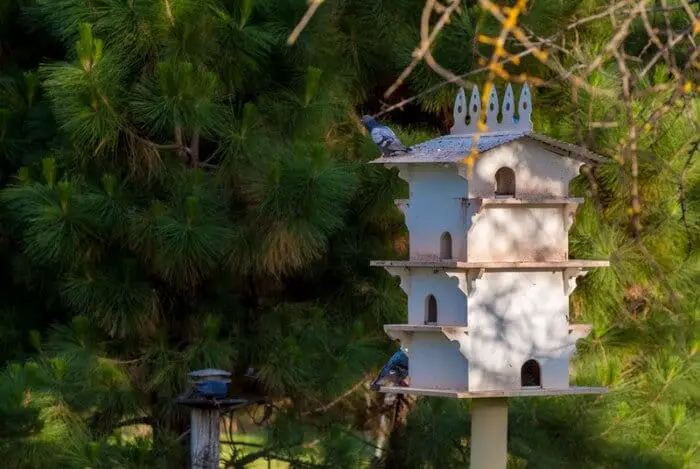 It's a structure that offers safety for your birds as it's a way to keep them out of the weather outside and a place to nest when the time comes.
Lofts come in many shapes, sizes. and designs and understanding more about them is an easy way to figure out which one is most suitable for the needs of your pigeons.
Benefits of a Pigeon Loft
As mentioned above, having a loft for your pigeons is good for their health. This is because it gives them a place where they feel safe.
They can perch inside and eat or drink, as well as sleep and nest without fear of predators or weather.
The loft also gives you a place to corral your pigeons so you know where they all are at the end of the day.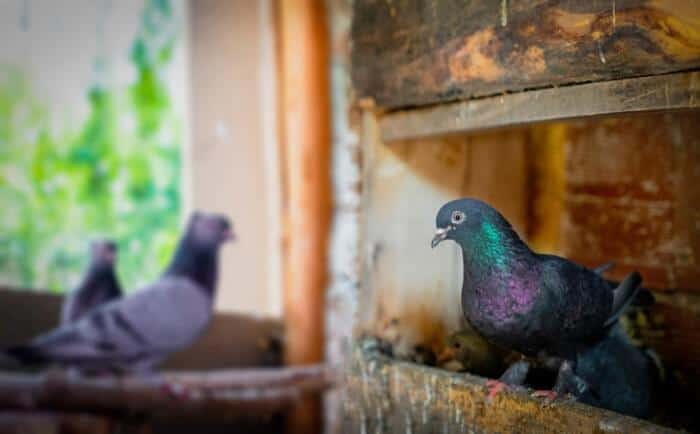 Many pigeon owners call their pigeons home to the loft each afternoon or evening and it gives the pigeons a place to return to, using their homing instincts.
Having a loft also gives you the opportunity to keep the mess of eating and defecating contained so that it's quicker and more efficient to clean it up each day or every other day. 
How to Choose a Pigeon Loft
The primary thing to keep in mind when you choose a pigeon loft is the health of your birds.
That means you need a place that is large enough to accommodate all of your pet pigeons or you may need more than one loft if you have a large number of them.
You also want a sturdy loft built out of quality materials that withstand daily use as well as extreme weather like rain, hail, high temperatures, and snow. 
Beyond those basics, the best pigeon loft needs four walls, a roof and a floor. This gives the pigeons a safe place to be out of the elements and away from predators.
It's also a good idea to include a landing board and some kind of ventilation to give your pigeons good airflow and a place to land so they can easily get in and out.  
---
Also Read: How To Build A Pigeon Coop Yourself
---
You will need about 8 to 10 cubic feet of air space for each pigeon in the loft.
If you have many pigeons, you will also want to divide the loft into partitions, giving breeders, babies. and older birds their own place.
Make sure you take precise measurements so you can get the exact size you need. 
Another good rule of thumb is to choose a loft that has enough space for you to stand up inside of it.
This makes it infinitely easier to clean the loft, as well as to change the food and water sources each day.
It's definitely not a requirement but is something you want to consider since you'll need to get into the loft on a daily basis. 
An elevated loft is a good choice because it enables optimal airflow from underneath.
It also helps keep the inside and the outside of the loft dry and secure during wet weather.
This also provides some measure of longevity since water damage can mean repairing or replacing your pigeon loft on a more regular basis. 
When it comes to the roof on your pigeon loft, choose a roof that slopes from front to back.
This optimizes water run off during rainy weather and keeps water away from the landing board at the front of the loft.
Make sure the landing board is large enough for several pigeons to use it at one time and look for a trap at the center of the landing board.
This allows the pigeons to get into the loft but prevents them from getting back out if you don't want them to.
You can also use a simple pigeon trap on the landing board if you prefer. 
Aviaries are another add on to consider when you choose a loft. This is basically an enclosed portion of the loft that allows in fresh air and sunshine for the pigeons.
You can also close off the aviaries to keep the weather out if you desire.
If your loft is divided into sections, make sure there is an aviary in each section so that all of your birds have access to one of them.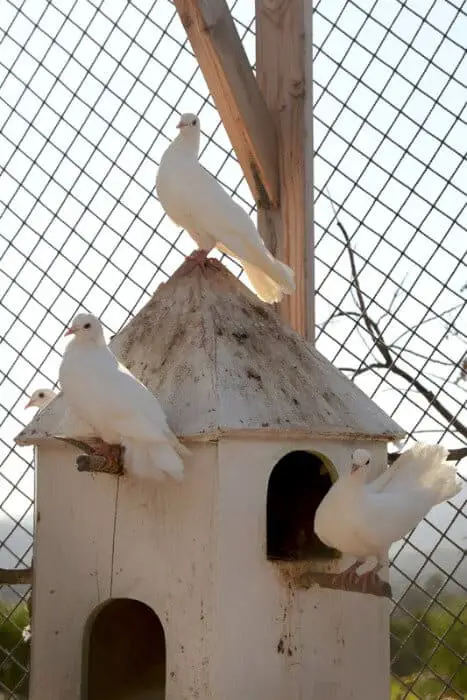 Ventilation is also important for your pigeon loft.
You want to be sure there is proper airflow throughout the loft, using aviaries, vents, and other methods.
This also serves the purpose of letting in sunshine, which helps keep the loft dry inside during wet weather. 
If you have mated pairs inside your loft, they each need their own nesting box.
They need to be high enough to protect any babies inside, but not too high for the mother and father bird to get inside easily. 
Finally, include some perches inside the loft so that your pigeons have a place to sit safely while they're inside. 
---
Your pigeons need a healthy place to roost, relax and sleep and a loft gives them just that.
Choosing the right loft means giving your pet birds a safe place to be when they aren't out flying around and keeps them from becoming victims of predators.
Taking the time to look at all of your options and decide which loft best suits your needs ensures that your pigeons get the care they need.