It might surprise you to know that Charles Darwin made an extensive study of pigeons.
He identified there were significant differences between the types of pigeon and did a lot of testing and experimenting.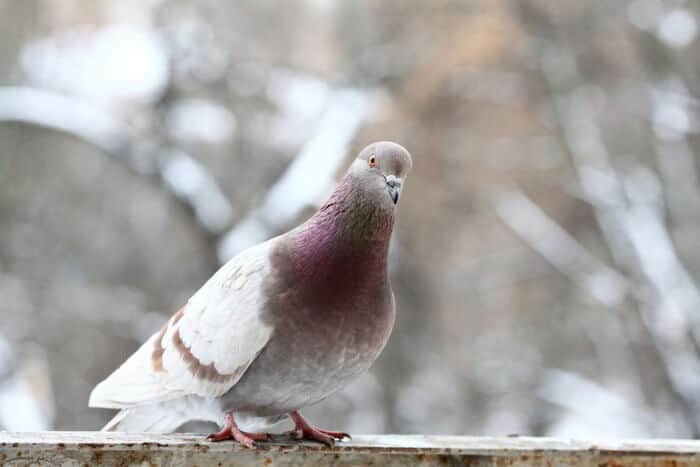 This led him to divide pigeons into two classes – domestic and fancy.
Fancy pigeons are those breeds that cannot be trained or domesticated. 
Because there are so many wildwood pigeons, it's easy to assume there are not that many breeds of pigeons.
Wikipedia currently list more than 720 individual breeds of domestic pigeon and they are spread all across the world.
Pigeons are also categorized into different classes – either by appearance or behavior, or certain strains that have been selectively bred. These are:
Asian Voice and Feather Pigeons – these originated in Asia and are developed with extensive feathering or their trumpeting, which is a low laughing-style voice. Examples include Fantails, Frillbacks, Jacobin, and English Trumpeter.
Color Pigeons – mostly bred in Germany, they are sometimes known as German Toys. There's a wide variety with a wide variety of markings and color characteristics. Breeds include the Ice Pigeon, Archangel, Saxon Field Pigeon, pale-vented pigeon, pink-necked green pigeon and the very rare Nicobar pigeon.
Frills and Owls – These pigeons are known for the reversed feathering on their chest and also for having shorter beaks than other breeds; more "owl" like beaks. Breeds include the Chinese Owl Pigeon, Old German Owl, Italian Owl, Aachen Lacquer Shield Owl Pigeon and Oriental Frill.
Homing Pigeons – This class includes show-type racing pigeons and breeds originally developed for their racing ability. Breeds include the English Carrier Pigeon, Dragoon, and American Show Racer.
Pouters and Croppers – These pigeon breeds have been bred for their ability to puff out their chests (pouters) and inflate their crops (a muscular pouch near the throat or gullet). Breeds include the Voorburg Shield Cropper, Gaditano Pouter, and the Pigmy Pouter.
Highfliers and Flying Tumblers – These breeds are selected for their ability to roll over forwards and backwards in flight or to fly at higher altitudes than other breeds. Their acrobatic ability is prized for flying competitions although many in this group have become show breeds. Breeds include the Australian Performing Tumbler, Danzig Highflyer, and the Tippler pigeon.
Exhibition Tumblers – This class references those tumbler pigeons bred and kept purely for ornamental or exhibitive tumbling purposes (read our piece on why tumbler pigeons tumble). Breeds include the Budapest Short-faced Tumbler, the English Long-faced Tumbler, and the Helmet Pigeon.
Utility Pigeons – Despite the name, the purpose of these breeds is not to perform any particular task (such as deliver messages) but they are reared to be food. Bred to grow quickly, breeds include the French Mondain, the American Giant Runt, the Hungarian Giant House and the Carneau pigeon.
Wattle Pigeons – Birds in this class are so named for the prominence of their wattle which is a fleshy caruncle hanging from various parts of the eyes or beak. Breeds include the Kespir Baghdad, Spanish Flamenca Pigeon, and the Scandaroon pigeon.
Some pigeons fit into more than one class. For example, the Dragoon pigeon is both a wattle and a homing pigeon. 
Let's have a look at some specific breeds.
Domestic Breeds of Pigeon:
Homing Pigeon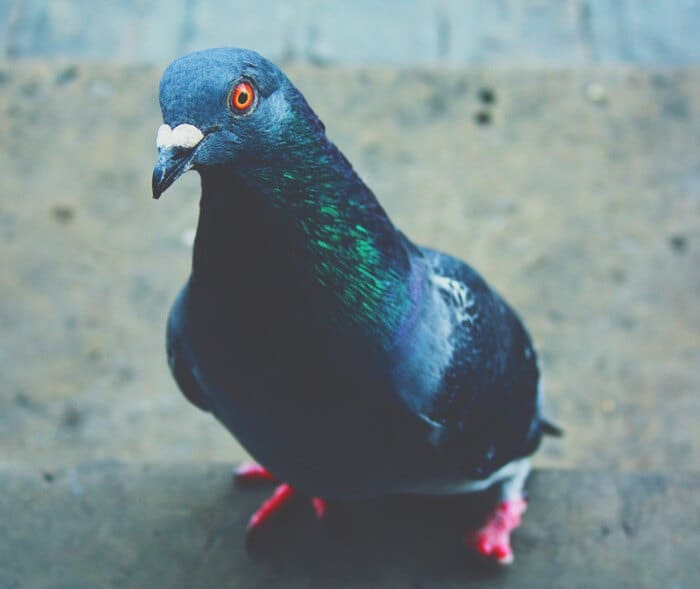 This is the most common and most famous breed of domestic pigeon. They are very widespread in many countries.
They are known to be able to fly great distances up to 1800 kms and because they have a great skill in remembering directions they were used to carry messages in wartime.
A sub variety of this pigeon breed, developed through selective breeding, is the racing pigeon.
Common Wood Pigeon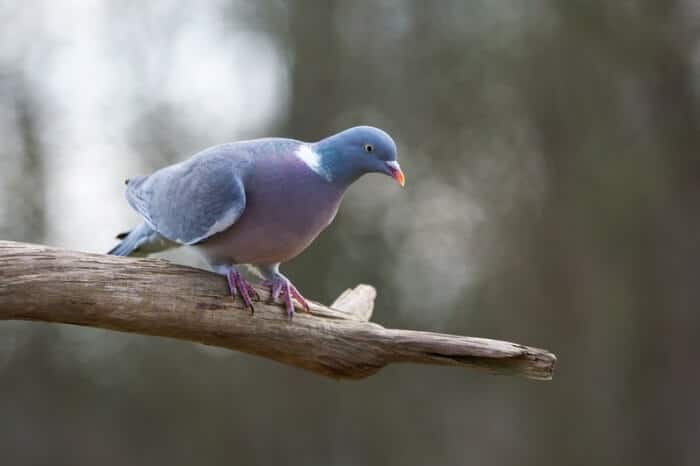 Most people recognize this pigeon.
It is mostly a grey bird with a white neck patch and white patches on its wings which are most visible when the bird is in flight.
Its sounds are as familiar as its look as in the cooing call and the clatter of its wings when it takes flight.
The wood pigeon is considered by many to be vermin due to overpopulation.
Fancy Breeds of Pigeon:
Fantail Pigeon
One of the most recognizable breeds of pigeon, the fantail is characterized by, yes, its tail.
A regular pigeon tail has 12-14 feathers. The fantail has 30-40 which creates an impressive display. Another distinguishing fact about the true fantail is they are completely white in color.
There are variations such as the Thai Fantail which has ribbon-type stripes on their tail and others which have been cross bred to produce fantails in various colors including yellow, black, and silver.
Fantails are most common in China, India, Pakistan, and Spain.
Frillback Pigeon
Another breed of pigeon where their name immediately describes their unique appearance.
The breast and back feathers are all frilly so it looks like they are covered in tiny curly ribbons.
Their longer wing and tail feathers also end in frills. Frillback pigeons are not a natural breed.
They are the result of cross-breeding and are larger than other fancy and domestic pigeons.
Frillbacks come in five colors: black, white, red, silver, and yellow.
Trumpeter Pigeon
Despite this being regarded as one of the most ornamental breeds, this pigeon is not named for its appearance but its call.
Rather than the regular cooing noise you expect from pigeons, the trumpeter's vocalizations sound like low laughter.
The most common varieties are the Arabian trumpeter, the Bokhara trumpeter, and the English trumpeter, which despite its name was breed in and is popular in the USA.
This breed has impressive ruffs on its feet.
Damascene Pigeon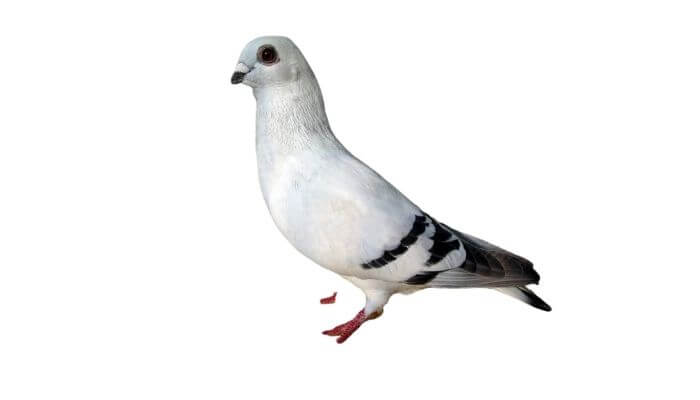 The Damascene pigeon, also known across the world as the Istanbullu and generally in the USA as the Mahomet is one of the oldest pigeon breeds.
It is particularly known for its flight ability and large, dark eyes.
Dragoon Pigeon
This is one of the oldest fancy pigeon breeds. It was developed in the United Kingdom through cross breeding to create the racing/homing pigeon.
The Dragoon pigeon is an active bird and usually behaves very well, being alert and watchful.
Its distinguishing features are a broad full breast, a stout, blunt beak, and large, prominent, blood-red eyes.
Cumulet Pigeon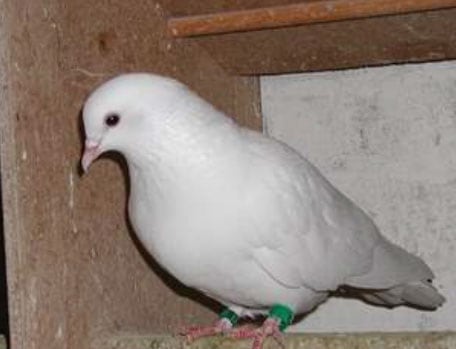 The Cumulet is considered one of the cutest pigeon breeds.
They are always white in color but one of their unique characteristics is that their legs can vary in shades between birds.
They are the original ancestors of high-flying pigeons and have been known to stay in the air for up to 13 hours. Indeed, its name in other languages usually refers to this feature – haut-volant cumulet (French), cumulet hochflieger (German), and altovolante cumulet (Italian). Until the 19th century, in France, they were known as "pigeon monte-au-ciel", or "heavenly climbers".
Ice Pigeon
Another breed that is a result of selective breeding, the ice pigeon is instantly recognizable for its elaborately feathered legs.
Interestingly, Charles Darwin is known to have crossbred the ice pigeon in 1846 to ascertain color patterns.
The modern-day ice pigeon was produced by merging two lineages in Eastern Europe: one breed was light winged with dark eyes, and the other had reddish eyes with black wing markings. Today's pigeon has a distinctive "ice-blue" color.
Due to their ornamental beauty and calm and gentle nature, they are popular for exhibiting.
They are, however, unsuitable pets for people with allergies because of feather dust.
Band-Tailed Pigeon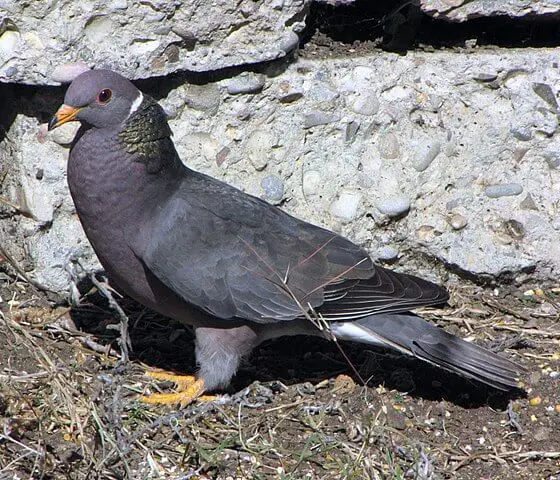 This is the largest breed of pigeon in North America and is the closest genetic relative to the now-extinct Passenger pigeon. Although large, it is mostly known for its calls which are varied but relatively quiet.
Its calls are low-pitched and owl-like in two syllables that rise and fall, sounding like huu-ooh. It also often makes some harsh squawking sounds for unknown reasons.
The band-tail is also known for its flocking behavior, sometimes gathering in a group of as many as 50 birds.
They commonly congregate to drink from mineral springs, although it is not fully understood why.
Vienna Long-Faced Tumbler Pigeon
Known since the 17th Century in Austria, this pigeon was introduced by the Turks and crossed existing breeds with their Barb pigeon.
It is one of the smallest breeds of pigeon weighing around 10 ounces and it has a prominent breast and rather a flat-top skull.
In modern times, it is found in many large US cities having been brought to the country by immigrants.
Once you start digging into the detail, there really is quite a breadth of characteristics in the multitude of pigeons.
Maltese Pigeon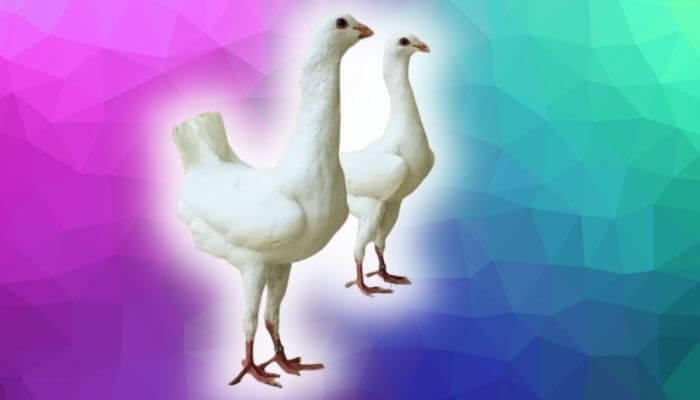 Maltese pigeons have a very unique, almost chicken-like, appearance with their long slender legs.
The Maltese pigeon is derived from a crossing of a French Bagdad pigeon and a German variety.
Rather than Malta (as the name may suggest), the breed's beginnings are in Austria in the 1800s, becoming known in Germany in 1850.