If you're looking to buy a pigeon mask, you've come to the right place.
We bought three of the most popular pigeon masks and gave them all a thorough test wearing for you.
As an Amazon Associate, we earn a small fee from qualifying purchases made through Amazon links. This helps us run the site – thanks for your support!
If you're keen to make a purchase right now then our top choice of pigeon mask for adults is The Johnnies Pigeon Mask, this is the most realistic looking pigeon mask and the best fitting one for adults. It's the perfect disguise for anyone looking for a reason to poop on someone's car.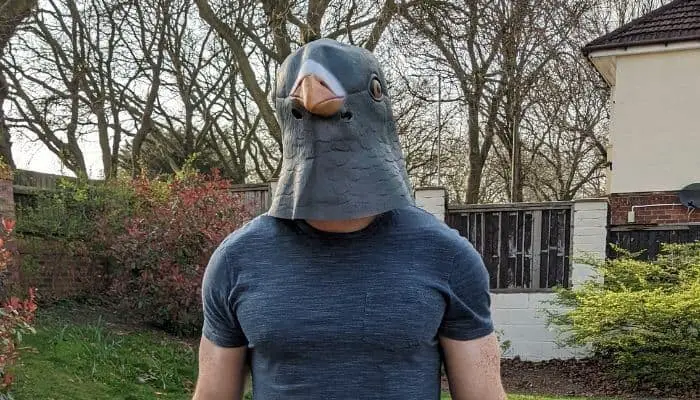 For kids, the Haorong Pigeon Mask is the best choice as the neck is shorter so they can see out of the eye holes with ease.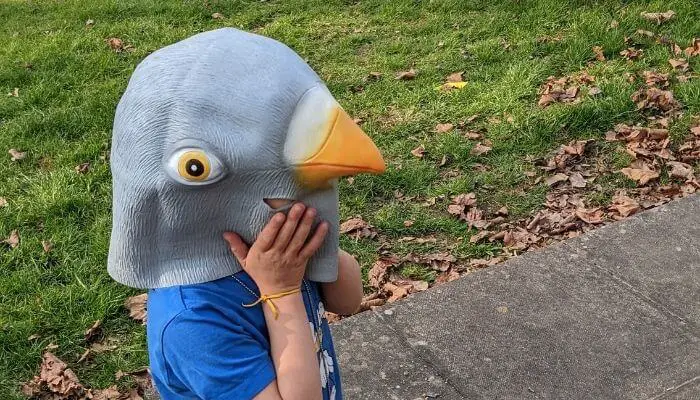 1. The Johnnies Pigeon Mask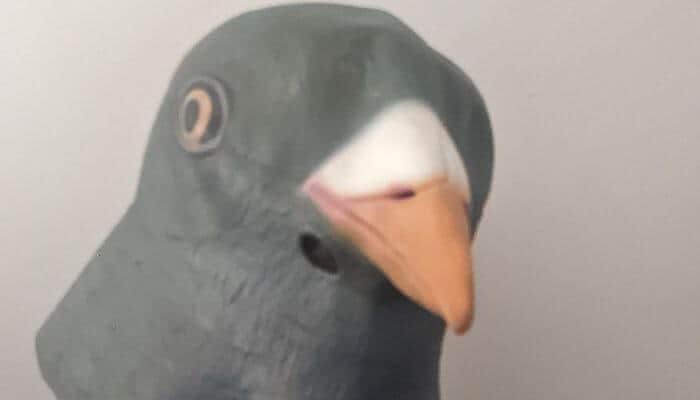 Most realistic-looking mask.
Covers the neck nicely.
Darker color means eyeholes aren't as noticeable.
Our favorite of the three.
2. The Bodysocks Pigeon Mask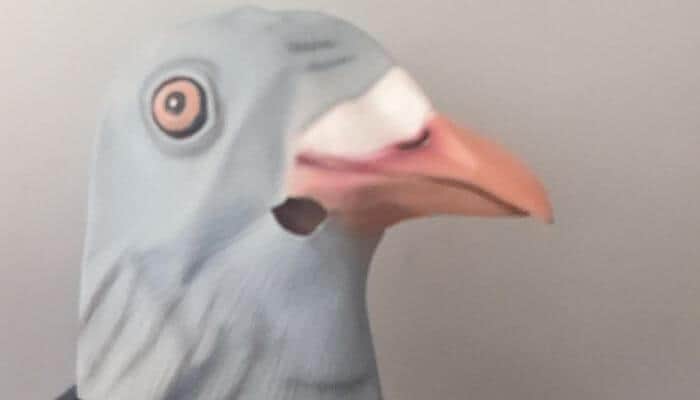 Much larger beak than the other masks.
Eyeholes are very large and visible this makes it easier to breathe in than the Johnnies mask but it ruins the look a bit.
Our second favorite of the three.
3. The Haorong Pigeon Mask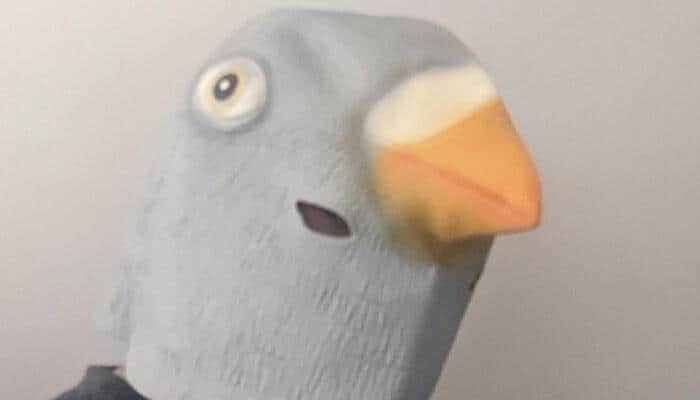 Doesn't fully cover an adult's neck, feels awkward to wear compared to the other two.
Better fit for children.
The least realistic looking of the three.
A decent mask for kids but we have to rate this one third out of three.
Pigeon Mask Photos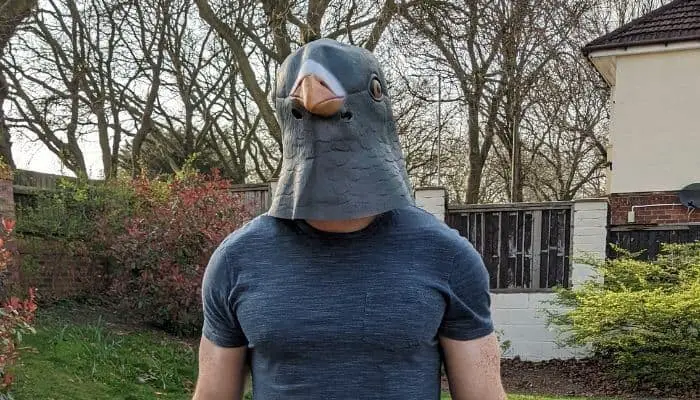 Where To Find The Japanese Bird People On Google Maps
There is one particular spot in Tokyo where you can find the aptly named 'Japanese Bird People' wearing pigeon masks on Google, the location is on a sidewalk near the Tamagawas Aqueduct.
The exact map location, for coordinate lovers, is: Lat, Long: 35.7040744,139.5577317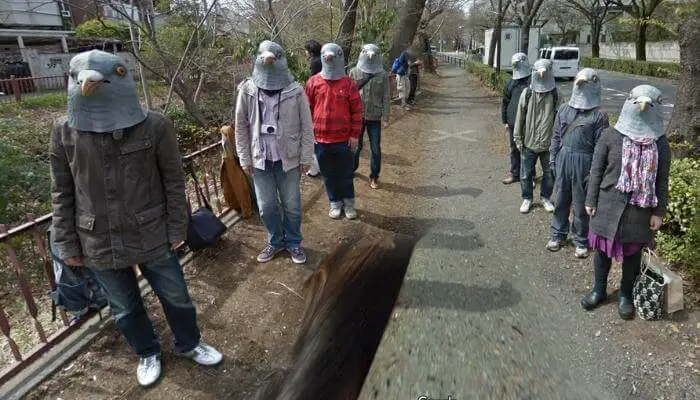 One of the amusing things about these particular pigeon mask wearers is their reaction when the Streetview person passes them by..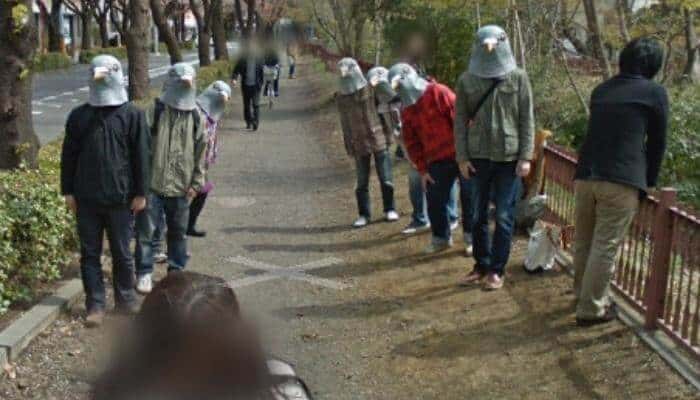 ..they all turn around and curiously watch as they leave.
Pigeon Masks Are Particularly Popular In Japan
Pigeon masks are popular across the world but they seem to have something of a cult following specifically in Japan.
In part because the Japanese Bird People, who have become something of an internet meme, have contributed to the popularity of pigeon masks there.
Here are some people wearing pigeon masks at a conference in Japan:
聴衆に紛れ込むハト。 #pigeonmask pic.twitter.com/eY5591Ntg3

— 西村まさゆき (@tokyo26) March 30, 2014
Sharing a meal together at home:
ハト実家に帰省 #pigeonmask pic.twitter.com/BUS8gjSsIa

— ちゃまん (@hero_chaman) December 31, 2013
Getting a takeaway:
回らない寿司でも食べるか。大将めっちゃ笑顔!#pigeonmask pic.twitter.com/w1TmD2yOsO

— くわまんbot[公式] (@twcc98man) December 20, 2013
Riding a train:
電車移動する、ハト。
#pigeonmask pic.twitter.com/So6CeA64Ca

— 日常に潜むハト (@hato_nichijo) December 9, 2013
Out & about:
つり橋にたたずむハト #pigeonmask pic.twitter.com/dV4eNruSwi

— ちゃまん (@hero_chaman) November 5, 2013
…so if you do decide to invest in a pigeon mask, rest assured you are not alone!