If you race pigeons knowing how your pigeons are flying will help you improve their performance and ensure that you select your best pigeons for races.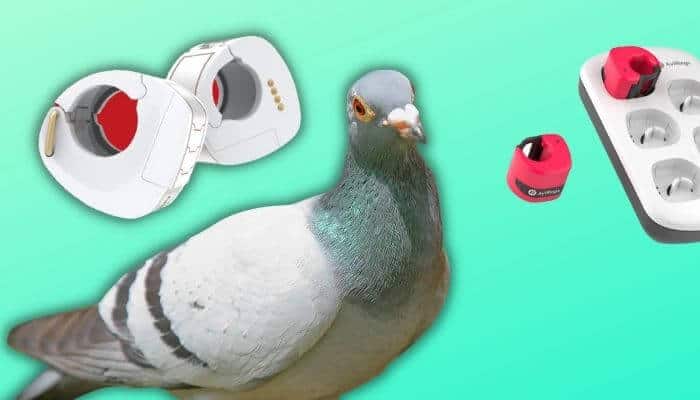 While there aren't a huge amount of pigeon trackers available on the market the SkyLeader 2 and AviRing are two of the standout products.
Below we review each one and compare the differences between the two.
SkyLeader 2 Vs AviRings
As an Amazon Associate I earn a small fee from qualifying purchases made through Amazon links. This helps us run the site – thanks for your support.
SkyLeader 2
AviRings
Weight:
4.6 grams
3.9 grams (the world's lightest)
Number of rings:
5 (& 5 training rings)
5
Battery Life:
Up to 35 hours (if you set it to record position once every 375 seconds). If you want more accuracy you can set it to record your pigeon's position once every 2 seconds however battery life will only last for 2 hours.
10 hours
Includes:
– 5 GPS rings
– 5 dummy rings
– 5 batteries
– 1 ring reader
– data reader
– charging station
– 1 USB cable
– user manual
– Combined data reader & charging station
– cables
– 5 tracking rings
– user manual
Live Tracking?
No, download the data when your pigeon returns to see the flight path mapped out along with speed & height.
No, download the data when your pigeon returns to see the flight path mapped out along with speed & height.
Color:
White
Red
Sizing:
11mm ring or 12mm ring
Universal fit
Price:
The SkyLeader 2 Review
The SkyLeader 2 is 15% smaller and 15% lighter than the original.
They have also improved the strength of the ring door connection by 400% so that it won't fall off easily and they have made improvements to the charging port to remedy poor connection issues that the original had.
The Chinese-made SkyLeader remains the leading pigeon tracking device on the market.
Also known as Jixiangle in Asia, this tracker is packed with everything any pigeon racer would need to assess a pigeon's flight performance.
This is the most advanced pigeon tracking device on the market. It allows you to display and compare flight routes, including flight speed, velocity and altitudes.
Its software integrates seamlessly with Google Maps or Earth making it easy to visualize and share flights.
One of the stand out features of this tracker is the ability to adjust the positional recording frequency for increased accuracy or improved battery life depending on your requirements.
Below are the different settings that you can use:
| Frequency of GPS recordings (seconds) | Battery Life (hours) |
| --- | --- |
| 2 | 2 |
| 35 | 6 |
| 75 | 10 |
| 180 | 12 |
| 375 | 35 |
The rings themselves are fairly lightweight and certainly won't be too bulky for most pigeons:
Ring Size:20.5mm x 20.54mm x 15 mm
Ring Weight:4.6g
AviRings Review
The AviRing is very similar in terms of the features it offers to the SkyLeader.
The main differences are:
It is slightly lighter (0.7 grams), this makes it the world's lightest pigeon tracker.
It is Red rather than White, red is said to be a better color for warding off potential predators.
It doesn't come with any dummy rings to help get your pigeon used to wearing it before you give them the real thing.
Its charging station also doubles as a data reader, unlike the SkyLeader that has separate charging units and data readers.
It doesn't allow for adjustable GPS recording rates.
So Which Is Best?
In terms of the data they give you they are both inseparable with excellent flight mapping ability which shows speed, height traveled, where, when and for how long they stopped.
If you race pigeons over long distances then the SkyLeader is a better option as its adjustable position recording allows you to extend the battery life up to 35 hours flight time if needed, and if you'd like to closely track exactly how your bird is moving then you can set it to record the flight position every two seconds if needed.
This makes it a better choice than the AviRing if you are looking for either extremely precise tracking or long battery life.
One small difference that favors the AviRing is the weight with the SkyLeader weighing 4.7g and the AviRing weighing 3.9g.
0.7g is not going to have a noticeable difference on your pigeon's flight performance, as the average pigeon can comfortably carry 30-50g of additional weight.
However, if you have a particularly small pigeon and you are keen to maximize their flight time then opting for the lighter tracker makes sense.
Finally the SkyLeader also includes dummy rings (AviRing doesn't), these are helpful for getting your pigeon used to wearing one before you put the real thing on.
While both trackers are very robust, pigeons may peck at them and potentially damage them if you were to immediately put the real thing on.
So while there is little to really split these two pigeon tracking devices we believe that the SkyLeader is the better choice in most cases.