If you're looking to buy a pigeon in Michigan there are a few key places to start your search. 
It's best to talk to pigeon associations and clubs within the local areas as they are highly knowledgeable and will be able to point you in the right direction. 
Below we have listed the best places and websites to find pigeons for sale in Michigan: 
1. Western Michigan Pigeon Association 
The Western Michigan Pigeon Association was first formed in 1929 and is run by longtime pigeon fanciers.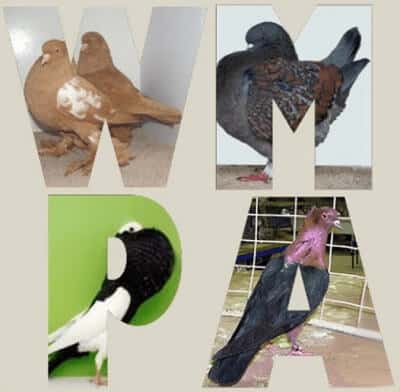 The members are knowledgeable, helpful, and willing to help point you in the direction of breeders. Many of the members have reputations for their specialty breeds so this association is a great place to go if you are looking for specific pigeons for your flock. 
The Western Michigan Pigeon Association has monthly meetings in Zeeland, MI and can also be contacted via email. 
Email Address: phillyfish@juno.com (subject line "pigeons")
As an Amazon Associate we may earn a small commission on purchases made through any Amazon links, this helps support us, thank you.
About to buy your first pigeon?
Click to view essential products to help you take the best care of them:
2. Don Aldrich 
Don Aldrich is a breeder based in Sodus, Michigan. Don breeds a range of rare, performing, and fancy pigeons including Portuguese Tumblers, Birmingham Performing Rollers, White Racers, Old Classic Frills, Pakistani Highflyers and Budapest High Flyers.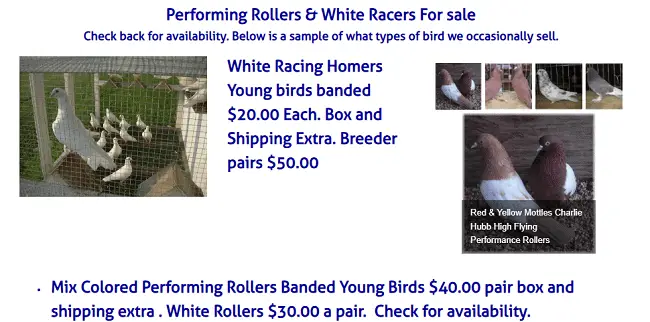 Even if the breed you are looking for is not on the list, give Don a call as he has been working with pigeons for over 50 years so will likely be able to help you find the pigeons you want. 
Address: 3596 Dutch Lane. Sodus, MI 49126
Phone Number: 269-363-1884
3. Michigan Bird and Game Breeders Association
The Michigan Bird and Game Breeders Association is a members club that regularly meets and holds events. 
The association sends out quarterly newsletters with articles, information, and classified ads. There is also a yearly membership directory. 

The MBGBA sponsors bird and game sale and swap events in Michigan. There is often an event organized for every one or two months and they offer a great place to find birds including pigeons. 
Address: 1621 17 Mile Rd, Cedar Springs, MI 49319 
Phone Number: 616-520-3422 (President, Randy Spicer)
Email Address: sugarn_spicer@yahoo.com (President, Randy Spicer)
4. Cutler Supply 
Cutler Supply is a family-owned business that has been running since 1986. The store focuses on pheasant, poultry, and beekeeping. They sometimes have live animals for sale and will be able to help you find local breeders. 

Address: 1940 N Old M 51, Loree Rd, Applegate, MI 48401
Phone: 810-633-9450
Finding Pigeons Online In Michigan
The following websites can help you quickly and easily find pigeons being sold locally. The sites are excellent resources that are regularly used by a lot of people. However, as you never know who the sellers are and how trustworthy they are, it is important to always be diligent when using these classified ad sites. 
The websites listed below are well-known and trustworthy but it is always important to approach potential deals with caution. 
5. BirdsNow
BirdsNow Michigan is a classified ads website specific to the buying and selling of birds.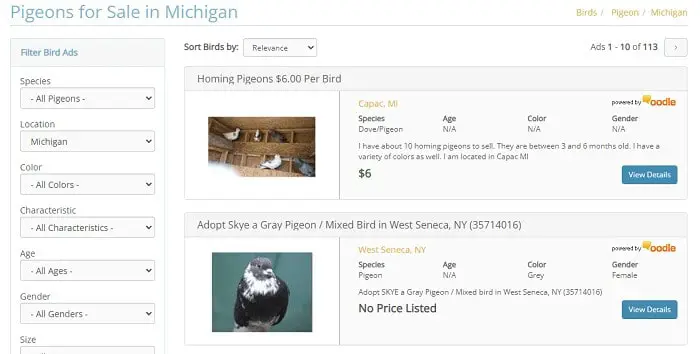 A quick search for pigeons in Michigan showed lots of recent adverts for a range of pigeons including homing pigeons, racing pigeons, rollers, and fantails. 
6. Hoobly 
Hoobly Michigan is also used by pigeon owners and often has a selection of adverts. 
We found multiple pigeon adverts posted in Michigan in the last couple of days including ads for Armenian Blacktail Tumblers, Pakistani High Flyers, Fantails, Parlor Rollers, and Zitterhalls (Shakers). 
There are some users who post a variety of pigeons and on Hoobly you can view all the listings from each user so it is easy to see which users are potentially breeders or hobbyists. 
7. Craigslist 
Craigslist has many individual sites depending on the region you are in, a quick look at the Detroit Craigslist page showed a variety of pigeons available to buy.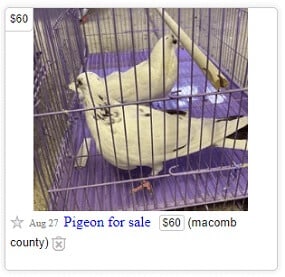 Often with Craigslist there are some other products that show up on searches (like books and artwork) but the majority of the adverts we saw were for pigeons. The ads clearly display the picture, price, location, and when the post was published. 
We generally find that listings on Craigslist are not as informative as ones on other sites such as BirdsNow.
Particularly when it comes to the information about the individual birds, but a chat with the seller will provide all the additional information needed before making a purchase.