If you're looking for pigeons for sale in Virginia, this guide will help you find the best local online and in-person places to go. 
We recommend talking to local clubs and associations as they are full of knowledgeable people who not only live in the local area and know the community but will also be able to offer advice on the best breeders or places to buy pigeons:
1. Virginia Pigeon and Dove Association 
The Virginia Pigeon and Dove Association has been active since 1941. The group is based around promoting and preserving the hobby of keeping pigeons and doves. 
The members of this association are very helpful when it comes to helping new members get started and find good pigeons to buy. 
There is limited contact information available for this association but the club secretary Roxanne Raines can be contacted via email so just let them know if you want to join the association and what type of pigeons you are looking for and they may be able to help.  
Contact: Roxanne Raines VPDAUSAORG@gmail.com 
As an Amazon Associate we may earn a small commission on purchases made through any Amazon links, this helps support us, thank you.
About to buy your first pigeon?
Click to view essential products to help you take the best care of them:
2. Blue Ridge Bird Fanciers
The Blue Ridge Bird Fanciers is a social club for people in the Blue Ridge Mountains area of Virginia. The club is free and they have a Facebook group where up-to-date information can be found on available pigeons and local breeders. 

This group has been running for a couple of years and at the moment their Facebook page is the best way to contact them and their members. 
Address: Blue Ridge Mountains, VA
Contact: Online via Facebook
3. DelMarVa Pigeon Club
The DelMarVa Pigeon Club is an active group that was established in 1980. This club has regular meetings and attends local shows so they are a good club to contact if you're looking for information or advice. 
Their DelMarVa Pigeon Club facebook group is also a good place to find pigeons available to buy. A look at recent posts on the group show several posts regarding available pigeons of varying types including rollers, frillbacks, and racing pigeons. 
4. Fauquier Livestock Exchange 
While not a shop or breeder themselves, Fauquier Livestock Exchange holds regular livestock sales. They have occasional Poultry and Small Animal Auctions that can include pigeons.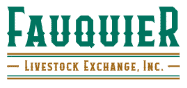 A recent exchange included Modena Pigeons and Homer Pigeons so the auctions offer a great way to meet breeders and buy pigeons within Virginia. 
Address: 7404 John Marshall Hwy Marshall, VA, US 20115
Phone Number: 540-364-1566
5. BirdsNow 
BirdsNow Virginia is a bird-specific classified ads website. It's an excellent site for finding pigeons and it is used by many owners and breeders. 

The BirdsNow site clearly displays the latest ads with a picture and the information regarding the species, age, gender, and the write-up from the seller so you can quickly and easily find the pigeons you are looking for. 
Recent adverts on the BirdsNow Virginia section show frillback pigeons, racing pigeons, rollers, fantails, and homing pigeons available to buy. 
6. Craigslist 
Richmond Craigslist is a popular classified ads website that you can find almost anything on. There are a few pigeon adverts in Richmond, Virginia as well as the surrounding area.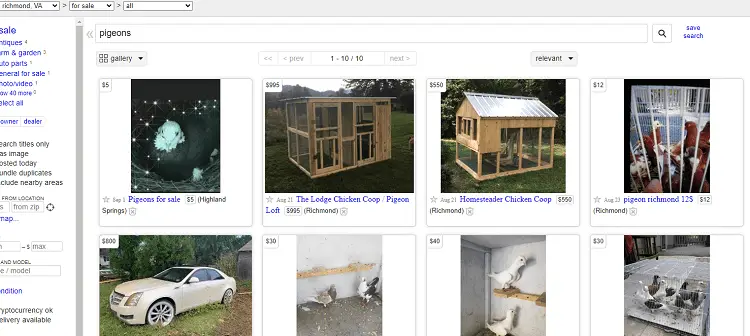 We did notice that the adverts don't contain as much information on Craigslist as those on the BirdNow website but a message or call to the seller would quickly answer any questions about the advertised pigeons. 
There are also Craigslist sites for other parts of Virginia so consider taking a look at those to find pigeons in the area local to you.  
7. Hoobly 
Hoobly Classifieds Virginia is another classified ad website that some people use to sell their pigeons. The site is not as widely used as BirdsNow or Craigslist but there were a few adverts listed in the Virginia area. 
If you do use Hoobly, take note of when the advert was last updated as we did see some older adverts (adverts posted several months) that may be outdated and no longer accurate.