Pigeon magnets are portable devices to lure pigeons to you for easy hunting.
Instead of tramping across fields or through woods in search of your prey you can stand in one place and attract them.
As an Amazon Associate I earn a small fee from qualifying purchases made through Amazon links. This helps us run the site – thanks for your support.
A few we recommend include:
What Are Pigeon Magnets?
Pigeon magnets are basically a small rotary motor mounted on a stand. Light extendable arms are fitted to the rotor with decoys of pigeons that are attached to the ends.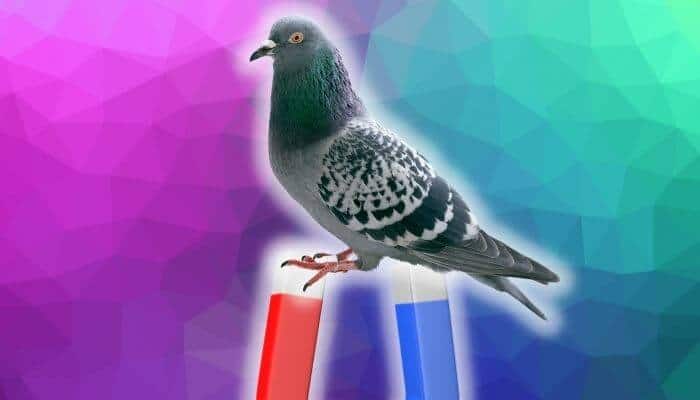 When the device spins, the decoys are designed so that the wings on them look like they are flapping to simulate flying birds.
The device is powered by batteries and is easily assembled and disassembled.
Pigeon magnets are very light and can be carried to wherever you want to place them when you go pigeon hunting.
How Do Pigeon Magnets Work?
They work by attracting other pigeons towards them.
The premise is reliant on a pigeon's excellent eyesight.
Pigeons are curious creatures and are always on the lookout for another source of food.
When they spot the decoy birds controlled by the magnet, they think the circling pigeons have found food and so want to join the feast.
Pigeons are known for their great eyesight and so they can spot the supposed pigeons from long distances. They are attracted by the movement and activity.
Even when the decoys are stationary, it will appear as if pigeons are on the ground feeding and this provides another lure for other pigeons.
Moving or stationary, pigeon magnets make other (real) pigeons curious and this curiosity draws them to within easy shooting range.
Our Recommended Pigeon Magnets
Though each item has a slightly different look and different price points, they are essentially
Crafted in green-coloured steel to blend with surroundings
4 heavy-duty spikes at the foot for secure anchorage
The stem and arms are telescopic and adjustable
The stem can be extended from 35cm to 60cm
The adjustable arms from 60cm to 100cm
The contents of each package:
A motor unit
A 1.5m battery cable
One speed controller
One remote controller
Two rotary arms
Two wing spreaders
Two decoy pigeons
One carry bag
The magnet runs off a 12-volt battery, which isn't included
Decoy birds can be replaced by real dead birds if preferred.
How to Deploy Pigeon Magnets
Expert pigeon hunters recommend setting up the magnet between 10-25 yards away from the decoys.
Some recommend placing the magnet within a field of wild growth or in a cultivated patch, where the decoys look like they hovering over a source of food.
The magnets can be adjusted to the height of the vegetation.
This method also helps to camouflage the equipment. It is best if the birds being lured can only see the decoys and not the equipment.
The decoys should be placed upwind otherwise you might not attract birds and shooting against the wind can mean missed targets.
You can also try combinations of more than one device and also different arrangements of decoy birds.
Are Pigeon Magnets Effective?
Avid shooters have claimed great success with these devices.
Some hunting experts suggest that the best results can only be obtained by using real dead birds rather than decoys.
Of course, as with any hunting outing, there's no guarantee of a good day's sport.
Like a lot of things, it is a question of trial and error, finding out what works best.
Use Pigeon Magnets To Improve Your Hunt's Chances Of Success
Pigeon magnets have proven to be effective for many shooters. They may make the difference between a good day's hunting and going home empty-handed.