Here are some of the best places to buy a pigeon in Manchester:
1. Northern Premier Online Auctions
Based in Irlam and run by Les Green, lovingly known as one of the Salford Pigeon Mafia, Northern Premier Online Auctions offers a saleroom and online auction platform for pigeon sales.
The company has been involved in the selling of racing pigeons by auction for more than 25 years.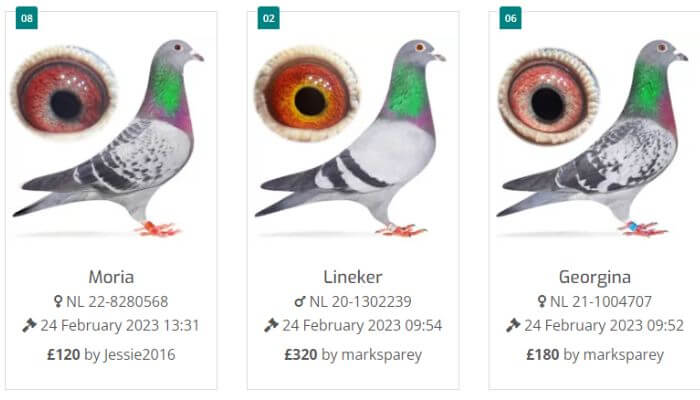 Each auction runs for a set period and the seller is given a nice profile as a bit of background to the birds up for auction.
The auction catalog page lists the regular pigeon breeders who contribute birds to the sales.
To participate in an online auction, you create an account and this registration allows you to bid on any bird currently up for sale.
As an Amazon Associate we may earn a small commission on purchases made through any Amazon links, this helps support us, thank you.
About to buy your first pigeon?
Click to view essential products to help you take the best care of them:
2. Manchester Pigeon Sale and Show
This is the first year that the Manchester Pigeon Sale & Show will take place so it remains to be seen if it will be an ongoing venture.
The sale will be held on April 2nd, 2023 at Droylsden Working Mens Club.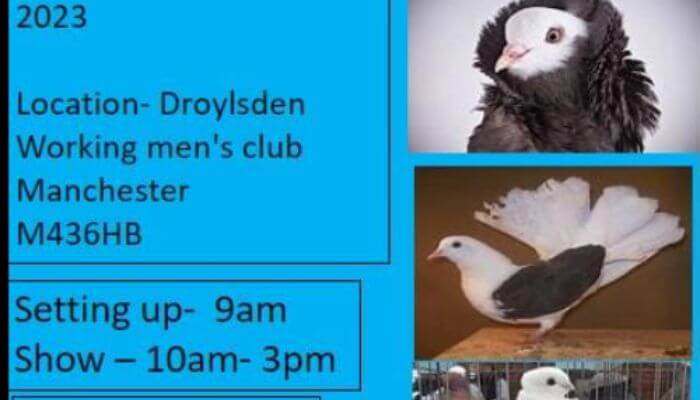 The Facebook group seems to be gathering members so even if this is a one-off event, it will be a great opportunity to network with other pigeon fanciers, presenting opportunities to make contact with people who have birds for sale.
3. OLCA
OLCA is an online classified ads site that features, amongst many other things, pigeons for sale in the Manchester area.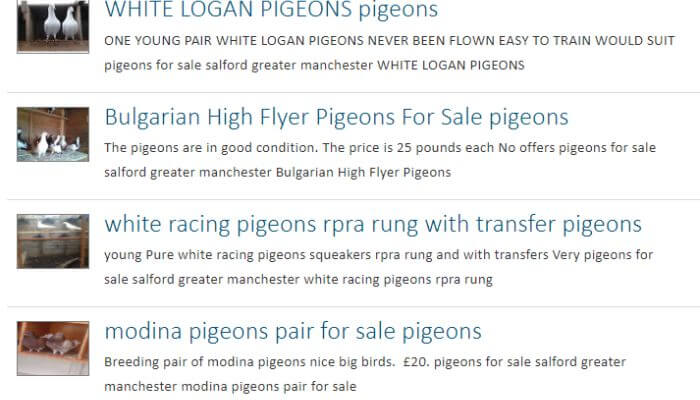 One problem to be aware of when using OLCA is that if you search simply for pigeon in Manchester you will get no results. '
This is because it sorts all listings by much smaller geographical areas. Greater Manchester is split into all its various boroughs and districts.
To make full use of the regional listings, you have to search each individual area such as Brooklands, Salford, Sale, Trafford Park and more.
The saving grace for this is that each area does seem to feature a good number of adverts for birds so unless you're looking for something very specific, you should have some good choices.
4. Preloved
Preloved is a general resale site. It is not an auction site. It covers many categories, so essentially anyone can sell anything on Preloved including pigeons, of which there are many.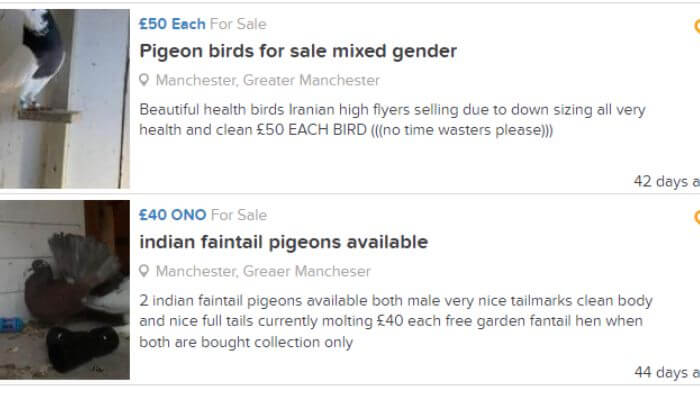 The pets category is popular and on the About Us page, the site gives a statement of how seriously they take animal welfare.
The site has a Trust Pilot rating of 3.8. There do seem to be some issues with the fees payable for what is described as a "free site" but this appears to be for people placing ads rather than those replying to them.
To be able to reply to adverts, you have to join the site as a member.
If you enter the site by the Google search "buy pigeon Manchester", the geographical search is quite good, covering a good portion of the North West. This elicited 176 adverts but these also included pigeons wanted,
When in the site, if you tighten the search to Manchester specifically, the number of ads dwindled to just 6, so the secret to success here is obviously the way you use the search engine.
5. Pets4Homes
Pets4Homes bills itself as the UK's most popular pet classifieds site.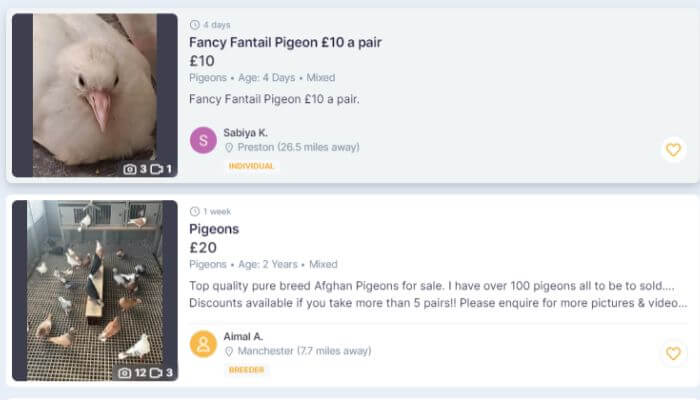 It mainly focuses on dogs and cats but hosts listings for all kinds of animals that are considered to be a pet.
Pigeons are not a major feature but there's usually a few adverts.
At the time of writing, there were 6 ads and these were located in and around Greater Manchester.
If you are interested in a sale, you just click on the advert which enables you to message the seller.
---
If you're willing to travel further afield there are a number of reputable places to buy pigeons in London, Birmingham and Leicester too.