If you're looking to buy a pigeon (or pigeons) in Birmingham (UK), below are 5 places where you can find them: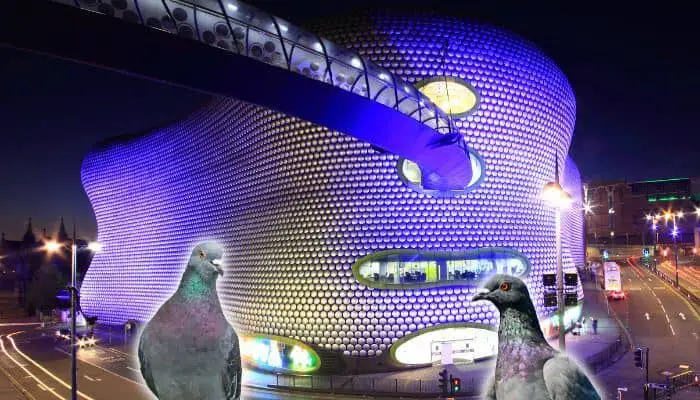 1. Walkers Racing Pigeons
Selling birds to the UK, Ireland, Belgium and The Netherlands, Walkers Racing Pigeons are based in Brierley Hill and have been operating in the Black Country for more than 20 years.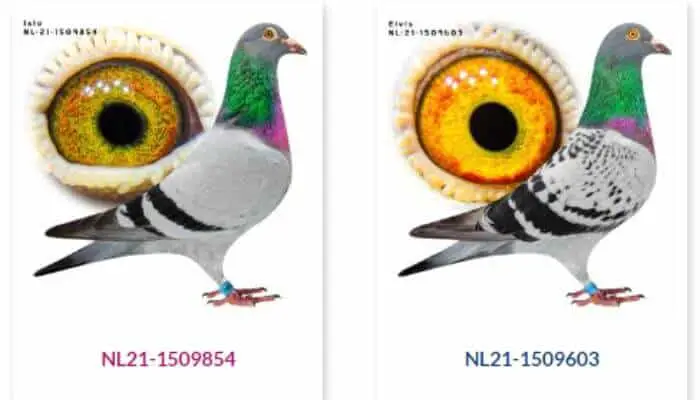 Working with a select number of breeders including famous names with proven track records, Walkers is essentially a third-party delivery service.
The website lists the birds of their partner breeders/lofts and Walkers handles the transaction from listing, through checkout to shipping.
Each bird advertised contains lots of detail. Click on the photograph to access the pedigree and ring number.
The photographs contain the full bird in profile as well as a close of the eye for buyers who are interested in the High Flying Pigeons Eyes Sign Theory.
2. Wolverhampton Tumbler Club
Wolverhampton is 15-25 miles away from Birmingham depending on where in the city you live so if you don't mind a short drive, it is worth keeping an eye on Wolverhampton Tumbler Club.
The club has a presence on Facebook and there is a sales platform but you do have to become a member of the group.
Why the club is listed here is that they run regular pigeon auctions.
Notifications of the auctions are posted on numerous free ad sites so you need to make a general search for Wolverhampton Tumbler Club and follow the results to one of the adverts to obtain the relevant details.
3. Bird Trader
As the self-proclaimed number 1 site online marketplace for buying and selling birds in the UK, you can expect a good array of pigeon ads on Bird Trader.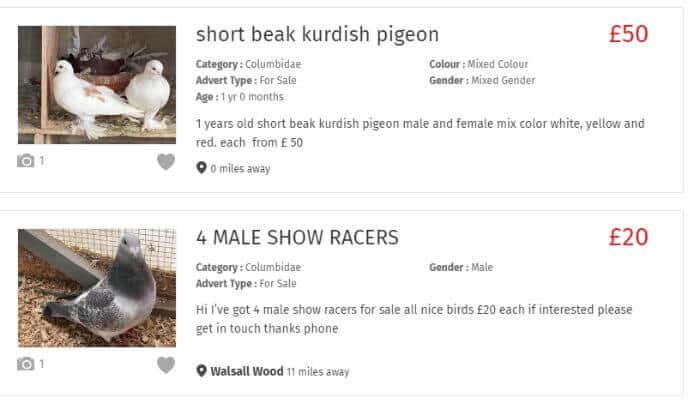 One of the best features of this site is the multiple distance options within the search function.
When we visited, when we narrowed the search to 5 miles, it yielded just 7 ads but on increasing it to within 30 miles of Birmingham, it increased to 19. A further increase to 50 miles distance elicited 25 adverts.
Among these 25, there was an interesting selection of types of pigeon. There were plenty of racing pigeons alongside various tumblers, Kurdish pigeons and Chinese owl pigeons.
4. Friday Ad
Friday Ad is not the most usable website but it is definitely worth a look as it sometimes does have pigeons for sale on there.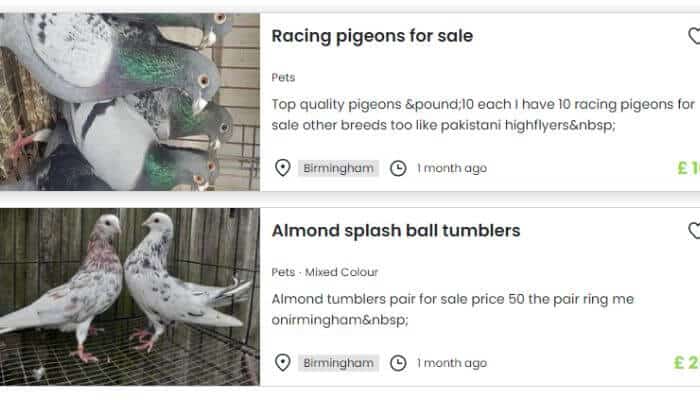 You can search for pigeons but the tightest parameter you get is pets with birds as the subset.
If you don't mind trawling through lots of irrelevant listings, you will find ads for pigeons for sale in Birmingham.
At the time of writing, there was a decent smattering of ads for pigeons among the 57 search results.
Tipplers made up the majority of the pigeons advertised but there were also racing pigeons, fantails and some interesting Iranian toghie.
You can sign up for free email alerts.
5. Trovit
Trovit is a Spanish-owned classified ads group has a presence in more than 50 countries, the UK included.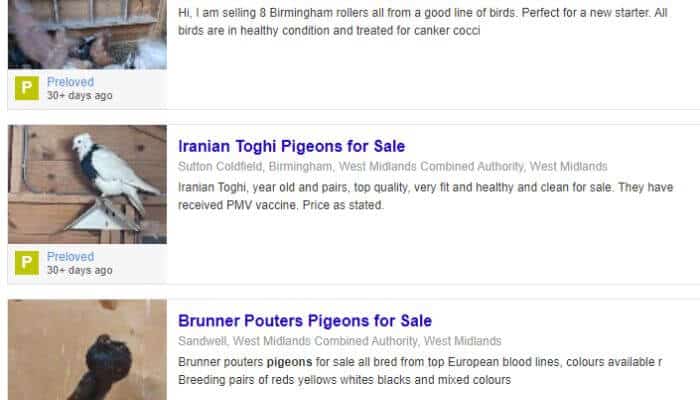 It isn't different in any way from other free sites where you can buy pigeons in Birmingham.
One thing we didn't like is that it gives paid ads top billing (like google search pages) before the pigeon ads begin. The paid ads were not relevant to pigeons! They also take up the bottom of the search page.
Its top-end search is a bit loose but there are decent drill-down options.
The adverts for pigeons showed a good variety of birds including trumpeters, pouter pigeons, fantails and plenty of racing pigeons.
---
If you're willing to travel a bit further afield to buy a pigeon you can also find places to buy pigeons in Manchester, Leicester & London.