When looking for pigeons for sale in Vancouver we'd recommend first speaking to local pigeon associations and pet shops with pigeon experience. These are the best points of call when it comes to local knowledge and locating trustworthy pigeon breeders in the area. 
..but to help get you started we've listed 6 places where you can find pigeons for sale in the Vancouver area below:
1. Vancouver Poultry & Fancy Pigeon Association 
The Vancouver Fancy Pigeon Association is a great club to join as they were established in 1898 and have a lot of experience in raising and showing pigeons.

The club is affiliated with the Canadian Pigeon Fanciers Association as well as the National Pigeon Association.
This association also has a classified ad section for club members. 
They also hold regular meetings, send out a monthly newsletter and participate in local events such as fairs so they have lots of knowledge and will be able to help you find breeders and available pigeons in the Vancouver area. 
Email Address: info@vancouverfancypigeon.ca
As an Amazon Associate we may earn a small commission on purchases made through any Amazon links, this helps support us, thank you.
About to buy your first pigeon?
Click to view essential products to help you take the best care of them:
2. Noah's Pet Ark 
Noah's Pet Ark is a popular pet shop based in the Kitsilano neighborhood of Vancouver. This store is open 7 days a week and has lots of animals and supplies, including a range of birds. 

They have been open since 1981 and have a great reputation. If they do not have pigeons available at the time of contacting them they will be able to point you in the right direction. 
Address: 2886 W Broadway, Vancouver, BC V6K 2G7
Phone Number: 604-736-9517
3. North Star Doves
Based in Ponoka, North Star Doves specializes in the breeding and care of pigeons as well as a range of other birds. They stock a huge selection of products and also sell fancy pigeons and racing pigeons.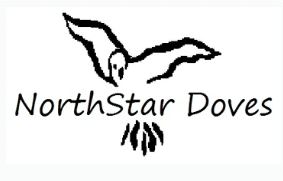 Although they are in Alberta rather than Vancouver, as they are bird specialists they are worth contacting to find out about their available stock and delivery options. 
The North Star Doves website says they do offer live birds for sale throughout the year but stock and prices vary depending on the bird and season so it's best to call or email them for up-to-date information. 
Address: Ponoka, AB Canada, T4J 1R3
Phone Number: 403-783-8300
Email Address: northstardoves@xplornet.ca
4. Ernie Silveri 
Ernie Silveri is the president of the Vancouver Poultry and Fancy Pigeon Association.
Ernie is not only a great person to contact regarding the association but it is also worth contacting them if you are on the lookout for American Roller Pigeons.
Phone Number: 604-856-2774
5. Kijiji 
Kijiji is the largest classifieds site in Canada and is used by a lot of people. We did a search for pigeons in the Vancouver area and Kijiji showed up 30 results. 

The results showed a wide range of pigeons available including Janssen Racing, Homer Pigeons, Afghan Pigeons, German Owl Pigeons, Fantails, and more listed in the last month. Prices were also clearly displayed and it is easy to look at the seller's profile, their reviews (if applicable) and their other listings.  
This is one of the best sites to use if you want to buy pigeons from private sellers within your local area. 
Kijiji is only used in Canada and many of the other popular classified ad sites that are used in America are not widely used in Canada. So if you want a site that'll have the most listings to show, this is the one to use. 
6. Vancouver Craigslist 
Vancouver Craigslist is another popular classified site that locals use when posting pigeon advertisements.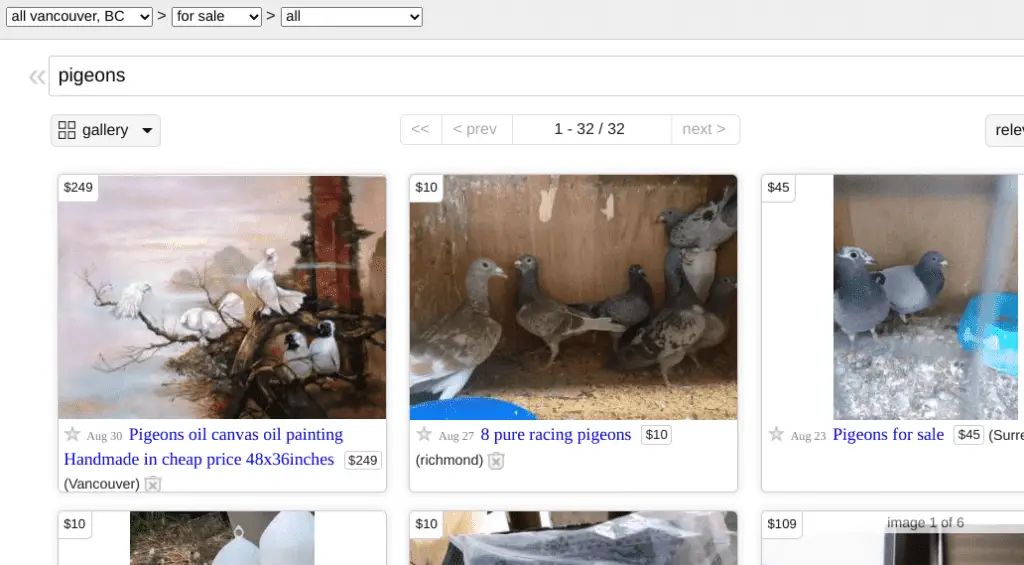 However, it is not quite as popular as Kijiji but there are a few listings so it is worth a look.
When using Kijiji, Craigslist, or another classified ad website be diligent as with these sites you don't know who you are buying from and how the pigeons have been cared for.