Have you got your Christmas sweater ready for this year? Surely no self-respecting pigeon owner would adorn their chest with anything other than a gorgeous pigeon Christmas jumper.
It barely seems that summer is over before our thoughts turn to the festive season. Many people believe that once Halloween is over the horizon, Christmas officially starts.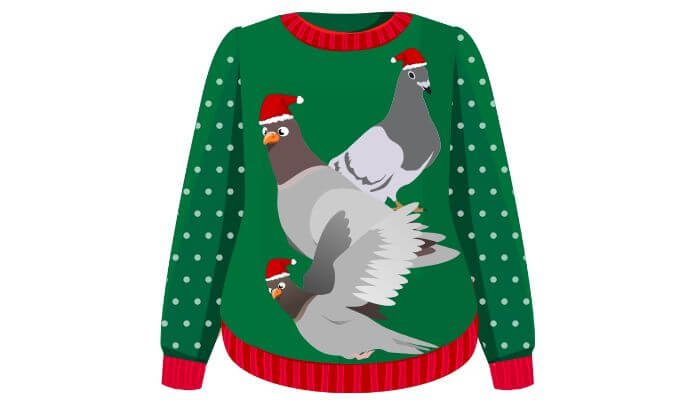 It will only be a matter of days before neighbours start putting up decorations and radio stations start playing the festive hits, and what better way for the quintessential pigeon lover to get into the seasonal spirit than by buying one of this year's hottest pigeon Christmas jumpers.
Believe us when we say that you will be more than amazed at the amount of variety on offer online, so whether you are buying for yourself or have a bird-loving acquaintance that you still haven't found the perfect pigeon gift for, this could well be the list for you!
Here are 15 of the best pigeon Christmas jumpers online this year that are just waiting to be snapped up and worn with pride!
As an Amazon Associate I earn a small fee from qualifying purchases made through Amazon links. This helps us run the site – thanks for your support!
1. 'Santa Riding Pigeon' Sweatshirt
If you're looking for a jumper that has all of the elements of a classic Christmas sweater (plus pigeons), then this is certainly it!
Where else this festive season are you going to get to see Santa Clause straddling a giant pigeon to get his present delivery done!? It's the kind of image you never knew that you needed to see, until you see it!
2. 'Pigeon In Santa Hat' Sweatshirt
Nothing says Christmas quite like a pigeon wearing a Santa hat, wrapped in tree lights, don't you agree!?
This is exactly the vibe that you get with this particular jumper, it even looks like the pigeon has been helpful and placed all of the presents under the tree ready to be opened on Christmas morning. We can only guess as to what he has been able to buy!
3. 'All I Want For Christmas Is A Pigeon' Sweatshirt
Mariah Carey says that all she wants for Christmas is you, but bird lovers tend to be a little bit more specific in their requests as this jumper shows!
If you know somebody who only wants birds for Christmas, then this is obviously the only logical jumper choice for them.
4. 'Tree Full Of Pigeons' Sweatshirt
Who needs baubles and tinsel when you have a tree full of pigeons? That's very much the vibe of this fun sweater design!
It's a sight that you see out in the park all the time, but very rarely inside on your decorated Christmas tree! We can't promise that this scenario wouldn't make a hell of a mess, but it sure does make a fun Christmas jumper.
5. 'Pigeon In Snow' Sweatshirt
Something a little bit traditional with this one, if pigeon Christmas sweaters can ever be described as traditional, that is!
The elegant pigeon is draped in a cute hat and scarf, surrounded by a background of white snow. He's clearly dreaming of a white Christmas.
6. 'Cartoon Pigeon' Sweatshirt
This cute cartoon pigeon in the middle of a classic symmetrical festive sweater pattern hits the sweet spot of festive and fun.
Who can resist a little pigeon who appears to be wearing a business suit, where is he going and what meetings does he have to attend!?
Puns and wordplay are a huge part of the Christmas sweater industry, so we couldn't leave you without a fun pigeon pun example!
Merry flocking Christmas is big and bold underneath a trio of festively accessorised pigeons, and at first glance somebody might think the saying is rude, but on closer inspection they will definitely get the joke!
8. 'Pigeon Love Christmas' Sweatshirt
This jumper offers an update to the classic LOVE symbol. What better to take the place of the O than our favourite bird.
Colourful enough to be attractive for female pigeon lovers and amusing enough for male fanciers, this is proof that loving pigeons is truly unisex.
9. 'Pigeon in Christmas Socks' Sweatshirt
It's Christmas time and that means flocks in socks.
What could be better than waking up on Christmas morning to find this cute pigeon sweater poking out the top of your stocking.  
10. 'Pigeon Racing Expert Elf' Christmas Sweatshirt
What do you get for the champion pigeon racer who has everything? I can only be a Christmas sweatshirt declaring their prowess.
Move over Elf on the Shelf, and make room for the Pigeon Racing Elf!
11. 'Christmas is Better with a Pigeon' Sweatshirt
Well, of course it is! No one here at Pigeonpedia is ever going to disagree with the sentiment displayed by this jumper.
This sweatshirt's pigeon has a happy smile and a cheery wave sure to bring a smile to any pigeon fancier's face.
12. 'Pigeon Lighting the Tree' Christmas Sweatshirt
Better than any Z-list celebrity, your favourite bird featured on this sweatshirt is always a better choice to turn on the Christmas tree lights.
He's made a great job of stringing the lights, even managing to wrap them around himself.
13. 'Naughty Nice Pigeon' Christmas Sweatshirt
Santa Claus is coming to town and thanks to the useful message on this sweatshirt he can tell not only who's been naughty or nice but the pigeons on his gift list too.
14. 'Ho Ho Ho Pigeon' Christmas Sweatshirt
If you want a bit of subtlety in a Christmas sweater (if there is such a thing!) you'll love this simple design.
Your favourite bird gently invokes some festive spirit with a ho ho ho!
15. 'Just a Girl Who Loves Pigeons and Christmas' Sweatshirt
And finally, one just for the ladies. Why should female pigeon fanciers be left out of yuletide pigeon fashion? Say it loud and say it proud. Anyone is going to feel merry and bright in this super colourful Christmas sweatshirt.
Do you have a favourite?