Pigeons touch our lives in many ways and humans have some interesting, bizarre, and even provocative thoughts bout these birds.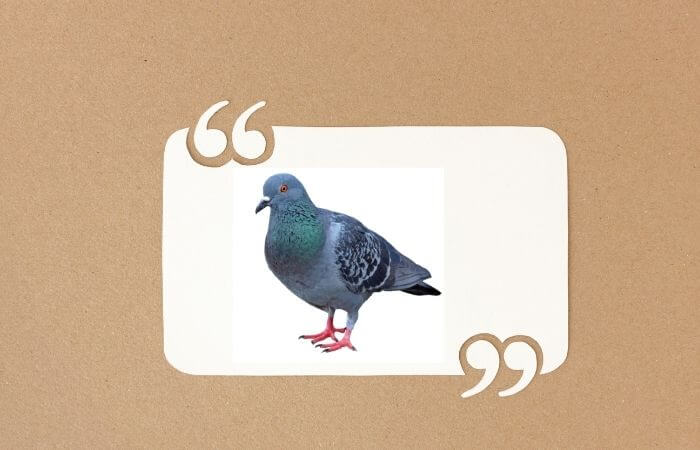 These feelings, the human relationship with them and attitudes are expressed in the most eclectic range of pigeon quotes.
Enjoy!
"You have to accept the fact that sometimes you are the pigeon, and sometimes you are the statue."    
~ Claude Chabrol
---
"I don't understand why people would want to get rid of pigeons. They don't bother no one."
---
"A homing pigeon must love her home; otherwise she will not wish to return to it."
             ~ Meir Shalev
---
"I have been feeding pigeons, thousands of them for years. But there was one, a beautiful bird, pure white with light grey tips on its wings; that one was different. It was a female. I had only to wish and call her and she would come flying to me. I loved that pigeon as a man loves a woman, and she loved me. As long as I had her, there was a purpose to my life."
             ~ Nikola Tesla
---
"Pigeons are among the most maligned urban wildlife despite the fact that human beings brought them to our shores and turned them loose in our cities – not something that they chose."
             ~ Ingrid Newkirk
---
"The only difference between a pigeon and the American farmer today is that a pigeon can still make a deposit on a John Deere."
             ~ Jim Hightower
---
"Bah, tombstones are only good for pigeons to sit on"
             ~ Vladimir Lenin
---
"All I know of birds to this date is that sparrows are the ones that are not pigeons."
             ~ Alan Coren
---
"I looked in the mirror at my pigeon chest, I had to put my clothes on cause it made me depressed."     
~ Ray Davies
---
Don't be afraid of being outnumbered. Eagles fly alone. Pigeons flock together.
             ~ Patricia D. Bokowski
---
Eagles don't fly with pigeons.
             ~ Samuel Kamugisha
---
The pigeon bites only the hand that feeds him.
             ~ Noman Kakakhel
---
Pigeons are among the very few birds that can suck water while their head is down.
             ~ Bill Bailey
---
You can watch actors create their illusions, but if you don't see where they get the pigeons from, you don't really know how they're doing it.
             ~ Alan Alda
---
The English eat all sorts of birds – pigeons, ducks, sparrows – but if you tell them you eat puffin, you might as well come from Mars.
             ~ Bjork
---
And then one day she left me. She left me as the pigeon leaves the window to fly in the wide blue sky.
             ~ Avijeet Das
---
I'm not an early bird or a night owl, I'm a permanently exhausted pigeon.
             ~ Abigail Saffert
---
When I ache to live, my mind loves to stay with the peaceful whiteness of a pigeon's care…in boundless amity.
             ~ Munia Khan
---
It always seemed to me a sort of clever stupidity only to have one sort of talent – like a carrier pigeon.
             ~ George Eliot
---
I only speak a little pidgin  French. Just enough to get by with the little French pigeons.
             ~ Bob Hope
---
The behaviour of the pigeon is beyond reproach, but the mountain cuckoo?
             ~ Yosa Buson
---
Maybe he's a homing pigeon. Maybe I'm his home
             ~ Katie Cotugno
---
When I first came to New York, I would scream like a girl and run to the other side of the street if there was a pigeon. Now I can face off with a pigeon.
             ~ John Searles
---
A pigeon flying with the ravens will start to caw!
             ~ Mehmet Murat Ildan
---
Prayer is innocence's friend; and willingly flieth incessant 'twist the earth and the sky, the carrier-pigeon of heaven.
             ~ Henry Wadsworth Longfellow
---
A pasty costly-made, where quail and pigeon, lark and leveret lay, like fossils of the rock, with golden yolks imbedded and injellied.
             ~ Alfred Lord Tennyson
---
What we must do is start viewing every cow, pig, chicken, monkey, rabbit, mouse, and pigeon as our family members.
             ~ Gary Yourofsky
---
We set off towards the square, where a knot of old folks hovered around the local pigeon community, their lives reduced to a ritual of spreading crumbs and waiting.
             ~ Carlos Ruiz Zafon
---
Retain a calm heart, sit like a turtle, walk swiftly like a pigeon, and sleep like a dog.
             ~ Li Ching-Yuen
---
Compare sending someone a text message and getting a love letter delivered by carrier pigeon. No contest.
             ~ Bryan Callen
---
We remain friends; for if the pigeon-house does not lack food, it will not lack pigeons; good hope is better than a bad holding.
             ~ Miguel De Cervantes Saavedra
---
Bat, pigeon, ravens – I don't care about distinctions right now. Any fluttery, flappy thing is not cool with me.
             ~ P.C. Cast
---
One becomes a critic when one cannot be an artist, just as a man becomes a stool pigeon when he cannot be a soldier.
             ~ Gustave Flaubert
---
A pigeon is the same thing as a dove, did you know that?
             ~ Ann Brashares
---
Also Read: