If you're looking for places to buy pigeons in Texas, you're in the right place, as this handy guide will point you in the right direction. 
It's a good idea to familiarize yourself with local pigeon clubs and organizations, which are great resources when you are looking to start or expand your collection of birds. Such places can also share valuable information on the care and breeding of pigeons. 
Below are 6 places where you can find pigeons for sale in Texas:
1. Mumtaztic Loft
The Mumtaztic Loft site is surely the best US resource for finding pigeons for sale. It has a massive number of listings that you can easily sort to see just the location you are interested in.
At the time of writing, there are 114 breeders listing pigeons for sale in Texas.
Each of the listings provides information on the breeder and city where they are located.
You'll also find contact information and data on the types of pigeons available for sale.
This is handy if you are looking for a specific breeder or kind of bird, but is also ideal for pigeons close to home. 
Examples for sale include dozens of racing and homing pigeons but also many fancy breeds including mookee, jacobins, carneau, archangel and old German owl.
If you are a breeder or collector and sell birds, you can add your information to the list so buyers can find you if they are looking to purchase pigeons.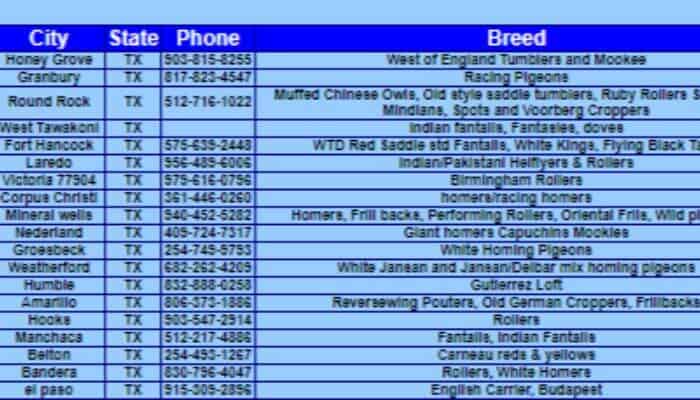 2. KJ Racing Pigeons
KJ Racing Pigeons is a performance-based loft, located in Texas is the place for high-quality racing pigeons from a reputable and trustworthy breeder.
Selective breeding by a skilled fancier results in pigeons that are fast and offer the ultimate in racing performance. 
The breeder (Kevin Jones) lists his pigeons for sale in four collections – National Ace, GWP Macaloney, CJ Steinmann and Top USA Pigeons.
Each bird is listed with a full pedigree and picture. The picture includes a body shot and also a close-up of the eye – of particular interest for those who subscribe to the High Flying Pigeon Eye Sign Theory.
3. West Texas Pigeon Fanciers
The West Texas Pigeon Fanciers Facebook group is a great resource for all things pigeons in the western region of Texas. Not only can you connect with like-minded pigeon aficionados, but you can also find out about pigeon related events, including sales.
Join the group to see pigeons for sale for most purposes, including racing and breeding. 
If you love pigeons and keep them for pets, this group has great information for you.
The group owner also organizers the West Texas Classic Show.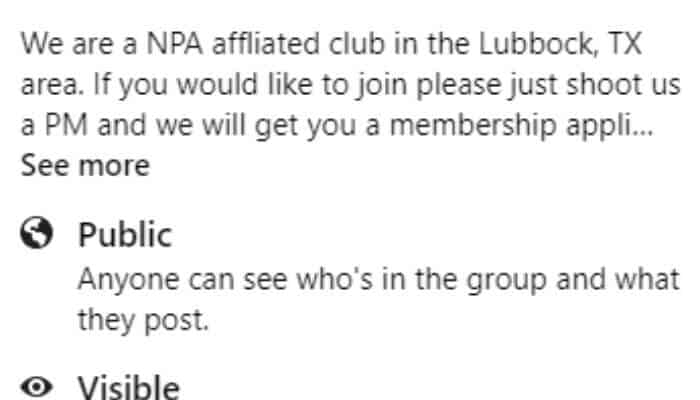 4. Pigeon Nest
Pigeon Nest is a decent resource if you can find your way around it. The site seems to be somewhat lacking in some areas but very well set up in others.
The site offers nationwide coverage and lists hundreds of pigeons for sale but the search facility is pretty useless so it is a case of scrolling through pages to see if there are any of interest.
The one section where you can do a more targeted search is viewing the list of breeders in Texas.
Breeders register with their contact details and also list the types of pigeons in their lofts that are for sale.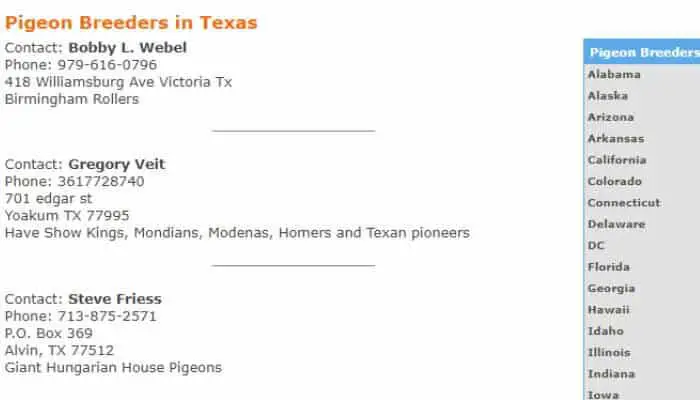 5. ClassifiedNY
Though a nationwide site, ClassifiedNY has an impressive number of listings for pigeons for sale in Texas.
There were 12 pages with each page holding 10 to 15 individual advertisements.
Like all classified sites, rogue ads for anything but pigeons can get caught up in the search but even allowing for this, there's still 100+ ads with pigeons to buy.
The other impressive feature of this site is the wide range of pigeons in the listings.
Naturally, there are plenty of racing, homers, high flyers and tumblers but numerous fancy breeds can be found including Lucerne gold collar, Jacobin, giant runt, king and archangel.
Simply click on any ad that you like the look of and get further info and contact details for the seller.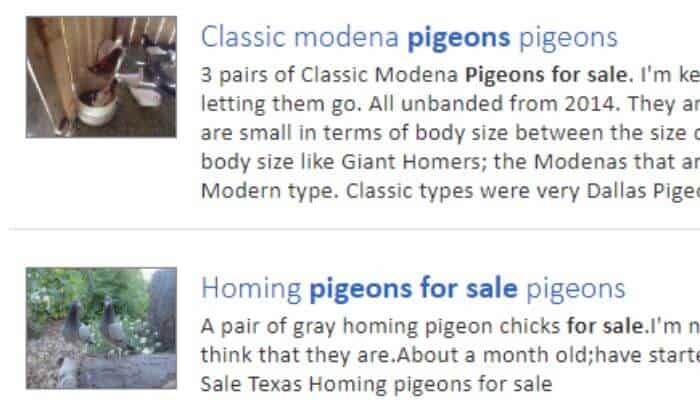 6. Craigslist
We know that Craigslist is a resource for everything and anything but we found it was surprisingly good for pigeons for sale in Texas.
At the time of writing, there were 30+ listings from all over the state.
The listings themselves are a bit hit-and-miss. Some quote prices but not all, most have pictures but few have detailed titles. Mostly simply say "pigeons" so you have to click on each ad to see what's up for sale.
Among them are plenty of racing and homing pigeons along with Indian fantails, capuchins, Modena and frillbacks.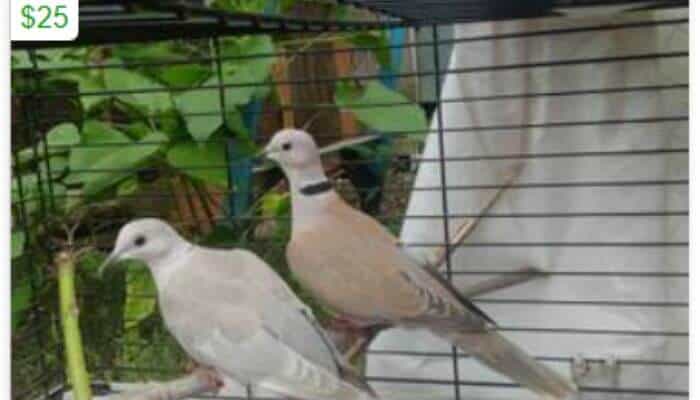 Remember, Craigslist isn't the only online classifieds site that lists pigeons for sale. You can also try Birdsnow and Hoobly
If you're interested in making connections with other pigeon fanciers and breeders to find pigeons for sale in Texas, consider the Texas Pigeon & Dove Fanciers Facebook group.