You're in the right place if you're looking for a place to buy pigeons in New York. This guide will show you the best sellers, both online and in person. 
When you buy pigeons, talking to local fanciers in the area is a good way to find reputable places with staff that are knowledgeable and can help you find quality birds from quality sellers. 
1. Birds Now Classified
Birds Now offers pigeons from a variety of sellers in New York.
The downside is that the site covers the whole of the USA so even searching New York you'll find listings from California to Vermont but this is not a problem because you can use pigeon courier services for delivery.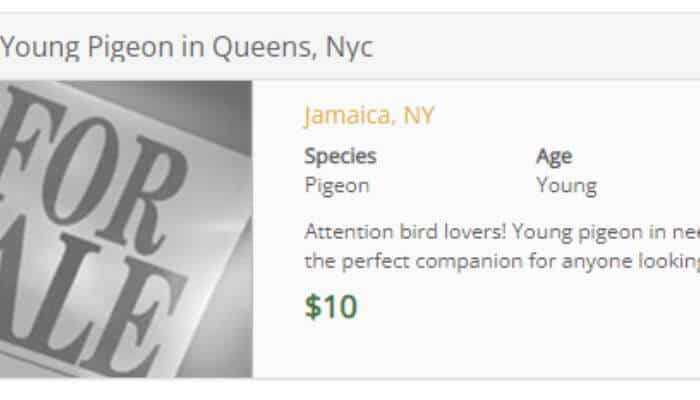 You'll find a large variety of breeds and types, and the lovely thing is that many are not pigeons that have been bred but have been found or rescued.
You can easily use the site to filter the results, based on gender, color, characteristics, age, and size.
2. Mumtaztic Loft
The beauty of the Mumtaztic Loft site is that although it has nationwide coverage, there are masses of advertisements of pigeons for sale in every state including New York.
At the time of writing, there were 100+ individual sellers listed.
The downside is that little information is provided in each listing. You just get a short description of the birds for sale. However, the site makes it extremely easy to contact the seller directly. Along with a telephone number, you can also just click on the envelope icon to contact the seller by email.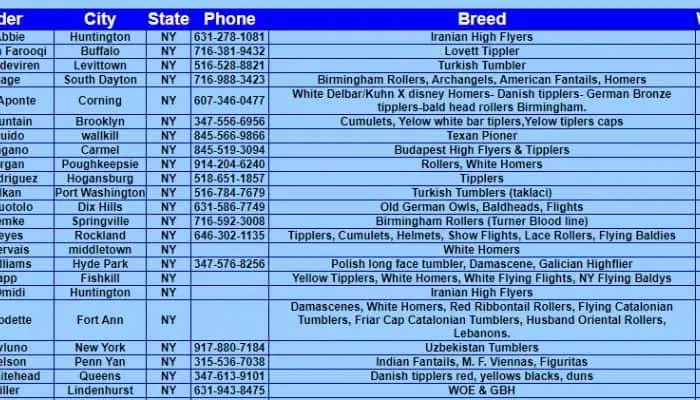 With a large number of sellers, another great feature of this site is the variety of birds available. The emphasis is on homing pigeons and performing pigeons.
There are lots of tippler pigeons and tumblers.
Among the fancy pigeons, we noticed pouter pigeons, scandaroon pigeons, nun pigeons and old German owl pigeons.
3. Classified NY
Classified NY is one of those annoying sites that doesn't make life easy when searching in-site.
If you do a main search of "pigeons for Sale in New York", you'll get listings but they'll be specific to a location within New York and not all of New York.
For example, our search returned results for Brooklyn only.
If you try to search New York once in the site, you won't receive any results. You have to search by a specific area. This is great if you want to limit your search to Roxbury or Niagara Falls but not for wide area searches.
The best thing to do is feel your way around the site to find what works for you.
The listings for Brooklyn were a healthy 10 pages long with 10-15 ads per page.
We saw English trumpeter pigeons, archangel pigeons and king pigeons,  among the plentiful rollers and racers.
4. Buffalo Fancy Pigeon Club
This Facebook group is dedicated to raising and showing fancy pigeons. The group holds meetings and attends events together.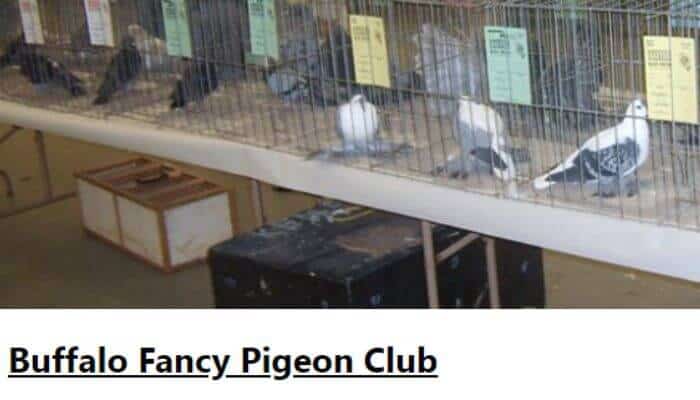 On the site and at club events you'll meet like-minded breeders and sellers of pigeons, particularly fancy pigeons.
Among all the posts are birds for sale. This gives you a great place to look if you're in the market to buy fancy pigeons of your own. 
5. Craigslist
Craigslist is a great place to find just about anything and pigeons are no exception. The site sells single pigeons or groups of pigeons and a wide variety of price points in and around New York. 
You can filter your results further based on price and location, allowing you to see only the ads that are relevant for your specific pigeon needs. 
Do note that the same ad may be listed multiple times so when you see 60 ads returned in your search for pigeons for sale in New York, it will not mean 60 sellers.
Images showed some lovely looking fantail pigeons and Ukranian skycutters.
6. Pigeons on Broadway (they don't have a website)
Address: 1622A Broadway, Brooklyn, NY 11207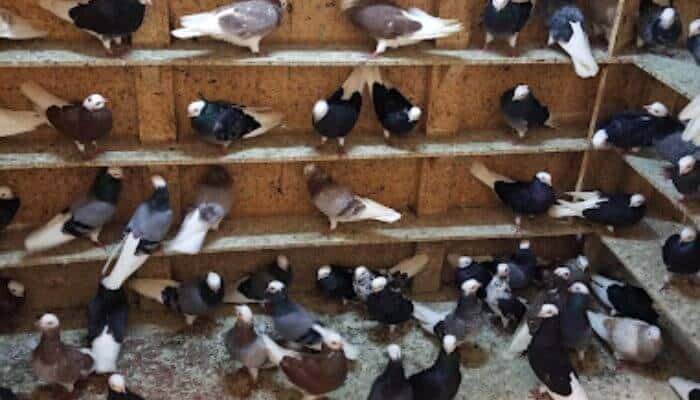 While Pigeons on Broadway doesn't sell online, they are a great Brooklyn shop for buying pigeons. The place gets consistently high reviews from its past customers. 
If you want to see the pigeons in person before buying, this is a great place to look.
A brick-and-mortar store makes it easy to build a relationship with a local pigeon dealer that you can come back to again and again. 
7. Schenectady Homing Pigeon Club
The Schenectady Homing Pigeon Club is a non-profit that focuses on racing pigeons. However, if you'd like to buy racing pigeons, they welcome phone calls and will guide you in the right direction.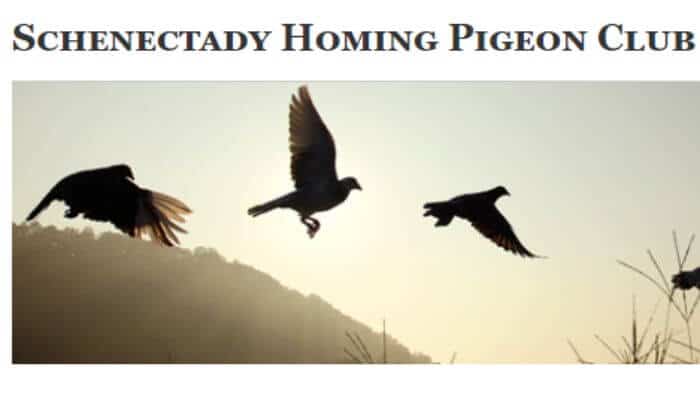 Located in upstate New York, the club is a fun way to see what pigeons can do, but also a great resource to keep in your back pocket if you want to breed or buy racing pigeons.
8. Hoobly
Hoobly is another reputable classified site for finding pigeons for sale in New York.
Single pigeons or multiple pigeons are available at a wide range of prices.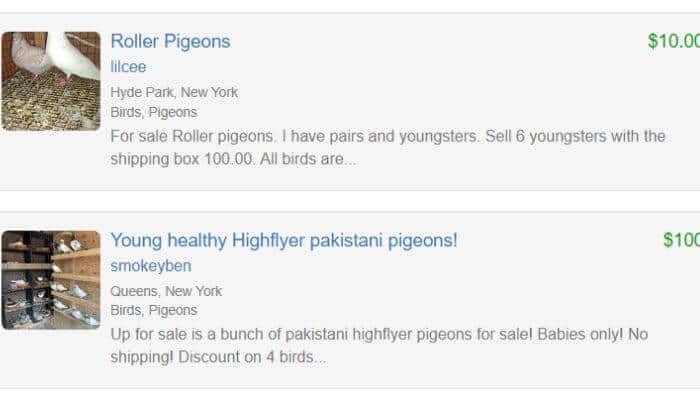 Among the racers, rollers and tumblers, we spotted Modena pigeons, fantail pigeons and frillback pigeons.
There's a search feature that allows you to narrow the results so you can see only what you're in the market for. 
9. Pigeon Auctions
Based in Oklahoma, the Pigeon Auctions website ships birds all across the United States.
You need to register to bid on open lots or sell but you can still browse without signing up.
Birds up for auction are shown in a simple format but click on any one and there's all the information you need including the loft and the pigeon's full pedigree.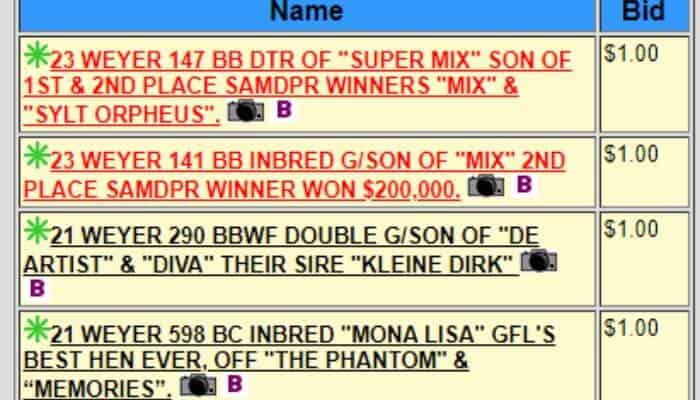 The breeders seem very happy to provide fulsome details about each bird, some more than others.
A good touch for those interested in racing pigeons is the inclusion of close-up pictures of the birds' eyes.
Anyone subscribing to the High Flying Pigeons Eyes Sign Theory will appreciate these details.