If you are looking to hand rear pigeon squabs from eggs then you will need an incubator.
Before we dive in let's be clear, unlike chickens, incubating pigeon eggs isn't ideal for their survival.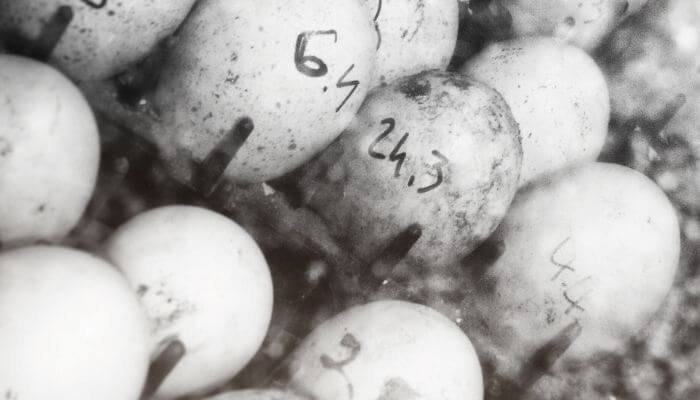 Pigeon squabs need pigeon milk as soon as possible to help keep them alive, the best way to ensure they thrive is for them to have a natural upbringing with pigeon parents.
If you have time to watch and wait for them to hatch and then quickly feed them with a syringe it can be done, however it is not ideal.
That said if you've come across abandoned eggs then incubating them is the best way of caring for the egg and ensuring its survival.
As an Amazon Associate I earn a small fee from qualifying purchases made through Amazon links. This helps us run the site – thanks for your support!
If you are going to incubate a pigeon egg these two incubators can serve you well (more detailed reviews of them further down the page):
Types Of Incubators
There are a number of different types of egg incubators that you can use for pigeons.
These include fully automatic incubators, circulated air incubators and still air incubators.
Fully Automatic Egg Incubators
Fully automatic incubators are the most expensive type. This is because they give you a lot of control over all aspects of managing your eggs.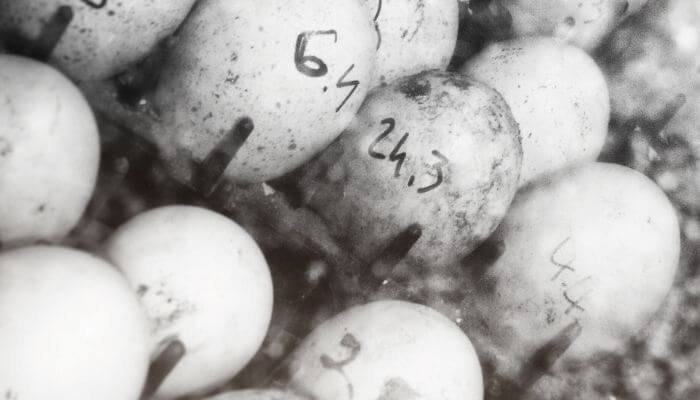 You can set and alter temperatures as well change humidity levels to suit your needs at any time through an easy-to-use user interface on either software or hardware controls if it is connected wirelessly with such devices like smartphones for example.
Fully automatic incubators can also rotate the eggs. This is important as it helps tp ensure that the yolk remains centered and prevents the pigeon embryo from sticking to the egg membrane.
Circulated Air Egg Incubators
Circulated Air Incubators differ to fully automatic incubators in that they still require manual turning of eggs.
This type has an air pump that circulates the warm, moist incubation atmosphere around the egg tray.
Most Circulated Air Incubators types have fan motors, heaters and thermostats built in to carefully manage temperature levels.
Still Air Egg Incubators
Still Air Incubators differ from circulated air indubators in that there is no movement of air.
They typically have an incubator lid and the eggs are placed on top in egg trays or cups which can be removed from below without disturbing any other tray beneath it.
Other Things To Consider:
Capacity
The amount of eggs an incubator can hold varies hugely with smaller incubators starting as low as seven eggs, and with some large professional-use ones being able to handle over 500 eggs!
Large-scale incubators are made for chickens more so than pigeons so avoid these.
Pigeon squabs require extremely close care and attention when being hand raised, giving the type of care necessary to 500 squabs would be an impossible feat which would result in a lot of casualties.
Egg Turning
Pigeon eggs need to be turned about three times a day. This is something that their parents naturally do.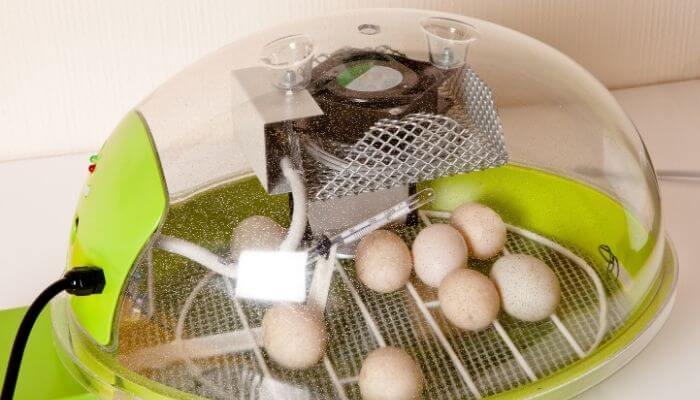 There are three ways of turning an egg in an incubator:
Manually – manual incubators require you to periodically open the lid and turn each egg by hand. This is best used for a small number of eggs.
Semi-Automatic Turning – Semi-automatic egg turning incubators make use of rods that pushes the eggs around. These simply require you to press the rod periodically to turn the eggs, making it much quicker than doing it manually.
Fully Automatic Turning – Fully automatic egg turning incubators complete automate the whole egg turning process, once your fully automatic incubator is set up there is nothing you need to do until the eggs hatch. These are great for large numbers of squabs but are also very useful for anyone who wants to take a hands-off approach to egg incubation.
2 Great Pigeon Egg Incubators:
Incubating pigeon eggs isn't a common practice, incubating chicken eggs is a very common practice.
For this reason almost all incubators are designed primarily for chicken eggs however most will cater for eggs of different sizes too.
Pigeon eggs are similar in size to quails eggs so if an incubator can handle a quails egg it will be fine to incubate a pigeon egg in it.
1. Brinsea Mini II Advance Automatic Incubator
Brinsea have been making egg incubators for over 40 years, their expertise is clearly demonstrated in their Mini II Advance incubator which is one of the best small-scale incubators available.
Take a look at all of the features they have packed into it below:
*Chicken eggs are much bigger than pigeon eggs meaning you can fit up to 12 pigeon eggs in this incubator though having seen it in action a few times we recommend you don't fill it to max capacity as there will be very little space available once the squabs hatch..
With digital temperature control and automatic rotation, there is very little human input required once the eggs have been set up within the incubator.
That said one drawback to be aware of with fully automatic incubators is that if something does go wrong you are less likely to notice it than you are with a manual incubator as egg checks happen somewhat infrequently so don't forget to check on the eggs at least once daily.
Warning: There have been a few reports of chicks dying after squeezing their head through the space between the water tank and the lid. However as pigeon squabs are much smaller than baby chickens this won't be an issue if you are using this for pigeon eggs.
Some of the features of this incubator worth mentioning in more details include:
The optional periodic egg cooling mimics the natural hatching process. While pigeon parents are very attentive and rarely leave their eggs for long there may be brief periods where eggs are left unattended and allowed to cool somewhat.
The Brinsea Model II Advance adds significant upgrades to the very popular original Brinsea Mini 7 egg incubator with the addition of electronic temperature controls, a fully digital control system, automatic turning, a hatching timer and temperature displays and alarms.
Brinsea have also produced a couple of alternative models that may better suit you, these include:
The Brinsea Mini II EX – this has a capacity of up to 12 eggs, it also features automatic humidity control.
The Brinsea Mini II Eco – this is a more basic version of the Mini II Advance, it requires manual egg turning and doesn't have any digital display or controls on it instead it uses a glass thermometer for temperature checking. While it does have fan-assisted airflow, it does away with features such as a digital temperature display, auto egg turning and temperature alarms. This is a good choice for anyone who wants a simple incubator at an affordable price and is prepared to put a bit of time into doing regular checks.
All of Brinsea's incubators are made with antimicrobial plastic and they come with three year guarantees.
2. Hatchmate Automatic Egg Incubator
While it looks like a big ice cream tub the Hatchmate Incubator hides a lot inside it's portable shell:
The Hatchmate Egg Incubator is designed for the backyard chicken farmer but it works perfectly for pigeon eggs too.
This unit can incubate up to 12 pigeon eggs at a time, offers an adjustable setting of temperature and humidity, and you don't need to see your eggs hatch since this appliance does all the work!
The Hatchmate's automatic egg turning system and fan-assisted airflow to ensure that the temperature is consistent provide optimum conditions for hatching at a very reasonable price point.
It comes with an assembly and operations manual, power cable, egg separation bars, a spare fuse, an egg turning frame, top shell, bottom shell, incubation grid and hatching grid.
Warning: There have been a few reports of excessive humidity with these incubators. To avoid this do not overfill the bottom shell with water (no more than 100ml), it is also a good idea to use a hygrometer to keep an eye on the humidity.
It's super simple to assemble, simply pour 100 ml of water into the bottom shell then place the hatching grid feet down into the bottom shell, place the incubation grid on top followed by the egg turning frame. Then slot in the separation bars and add your fertilized eggs.
When placing your eggs in the turning frame make sure that the small point of the egg faces into the frame so that the frame can turng them left and right easily, failure to do this will make it far less effective.
Once this step is complete then place the top shell onto the bottom shell taking care to ensure that the turning pin slots into the slot on the turning frame.
Now you can plug the incubator in.
Related Article: The Warm Water Trick For Hatching Eggs Explained
You can adjust the temperature by double pressing the 'set' button and then pressing the '+' or '-' buttons.
One of the drawbacks to this incubator is that it is cloudy meaning you can't clearly see through it. Pigeon squabs require closer care and attention than a chicken's chicks to so ideally it would be completely clear to allow you to keep an eye on them when they are hatching.
While you will can see movement through it you won't be able to clearly make out if cracks are forming in the egg without lifting the lid, doing this can compromise the humidity of the incubator (which helps makes the shells soft and easy to break out of).
So bearing this is mind take care to keep an extremely close eye and ear on your incubator when your squabs are due to hatch.
The Hatchmate incubator is produced by the Backyard Farm company, there are quite a few similar alternatives available which all function in much the same way, some of the more popular alternatives include: