Pigeons are great to keep as pets or for racing.
Keeping pigeons is a popular activity in Perth and there are loads of clubs and associations in Western Australia.
It's a very rewarding hobby and it's easy to get started if you have room for a loft and enthusiasm for these lovely birds. If you want to become a pigeon fancier or are looking for new stock, here are some of the places to buy pigeons in Perth:
1. SAFE Perth
If you are generally an animal lover who is also passionate about pigeons, you will love SAFE Perth.
SAFE stands for Saving Perth Animals from Euthanasia.
This no-kill rescue organization regularly lists all kinds of animals for adoption including pigeons.
Being a rescue center, the stock they have is always going to be circumstantial – either feral pigeons that have been injured and healed or racing/homing/fancy pigeons who have lost their way and are unclaimed by their owners.
Adoption fees are minimal.
2. Group 1 Lofts
Although not based in Perth, Group 1 Lofts are one of Australia's biggest sellers of pigeons and will deliver nationwide.
They sell a huge number of birds both from their online store and in auctions.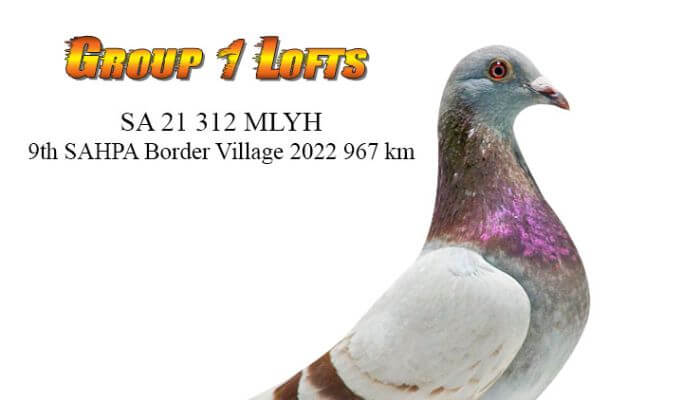 The pigeons are sourced from premium breeders in Australia with proven track records.
Birds from high-class European bloodlines are also imported for resale.
The target audience for Group 1 Lofts is seasoned pigeon keepers rather than beginners.
Prices are only available on application and each bird comes with a full pedigree.
3. FindAds
FindAds is a Norwegian-based organization operating websites in various global locations including Australia.
The website is simple in design and easy to use.
Simply choose your search options and browse the results.
For pigeons for sale in Perth, the top-level search is Western Australia and then you can select from a range of towns and cities.
Just click on any advert you want to look into further.
You can sign up for email alerts as listings of interest are posted.
Most of the listings detailed racing and high-flying pigeons but there were also ads for king pigeons, modena pigeons, white fantails and tippler pigeons.
4. Kangaroo Classifieds
 Another marketplace site, Kangaroo Classifieds is an independent website operating only in Australia.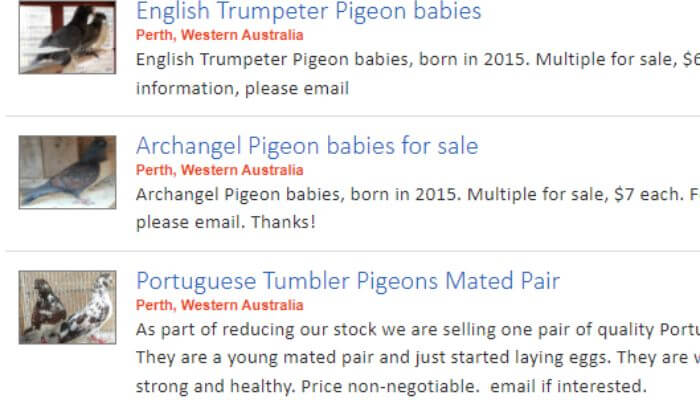 It is best not to go into the top level of the website as this only accepts the state. The best way is to search on a string like "kangaroo classifieds pigeons perth".
The upside is that this website seems to attract more ads and more wide-ranging pigeons than most of the other free ads sites.
Listings, when this search was conducted, included German owl pigeon, Jacobin pigeon, archangel pigeon and giant runt pigeons.
5. Gumtree Australia
Gumtree is one of the world's most well know free ad platforms, and it does list Pigeons for sale in the Perth area, though you will have to check regularly as pigeon listings there are sporadic and infrequent.
Searching however is easy and there are numerous options for really targeted searches if you wish.
Other good features include the save search option and also the like function which enables you to see a number of selected ads to compare.
You need to sign up with an account to make use of the best features.
At the time of writing, there were 24 ads.
There were plenty of racing pigeons and breeds included helmet pigeon, Birmingham roller, Indian fantail and Lahore pigeon.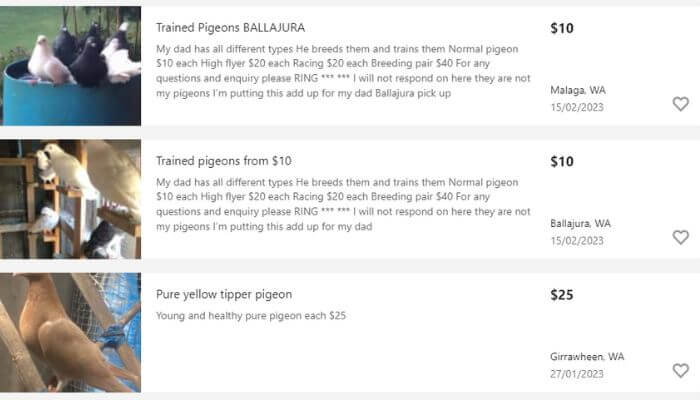 Just a note about the free advertising marketplace sites. Because they are free to list, you may find that one seller duplicates their post on multiple sites. Just something to watch out for!